If we had our way, I know that many boaters like myself would be out on the water every day of the year, but unfortunately that's not always possible or practical. Sometimes life gets in the way of our ability to get out boating, and we need to look for other options to move our boat from point a to b. 
Thankfully, there is an affordable option for busy boaters to get their vessels moved from one place to another without even setting foot on the boat. How is this possible, you ask? By hiring a professional yacht delivery service, of course!
Perhaps, after years of searching, you found the perfect boat for sale – in excellent condition and just the right price – but on the wrong side of the ocean. Or maybe you just finished a fantastic Trans-Pacific yacht race to Hawaii but don't relish the thought of another two to three weeks sailing against the prevailing winds and currents to bring the boat back home to California.
Or maybe you are one of the many thousands of boaters who find yourself separated from your vessel by an international border and a sea of travel regulations due to the coronavirus pandemic and you are not excited about the prospect of waiting another year or two to get back out on the water. 
One option would be to sell your boat, or pass on a potential once in a lifetime opportunity to sail the vessel of your dreams. Or, you could hire a professional delivery captain to move the vessel for you, without ever needing to leave the safety and comfort of your home. 
Of course, some boaters are wary of handing over the helm to another skipper, and understandably so. Nobody knows your boat like you do, and if you are thinking about hiring a delivery captain, it will be extremely important to make sure you find the right person for the job – and to make sure the delivery is done right. 
That's why I wrote "The Ultimate Guide to Yacht Deliveries".
As a lifelong sailor and United States Coast Guard (USCG) licensed captain since the age of seventeen, I have spent the past twelve years operating a professional yacht delivery business. This work has taken me all over the world, from the Arctic to the Southern Ocean and many places in between. Along the way, I have logged over 65,000 nautical miles on boats from 26 to over 100 feet in length. 
I have compiled all my most important experience from my yacht delivery career right here in this guide – so you don't have to learn about boat deliveries the hard way. This article covers everything you will need to know, from finding the right captain, to preparing the boat, to the actual delivery itself, and everything in between. If you have ever considered hiring a professional yacht delivery service to move your boat, then keep reading – this is the guide for you. 
How Are Yachts Delivered? – Finding the Right Captain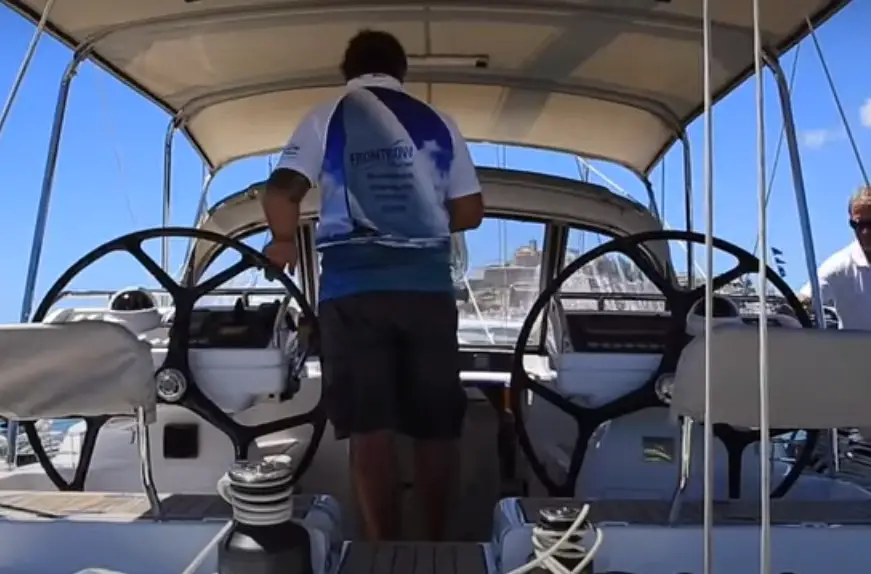 Everybody loves to steer a boat. It's when the red lights start to flash that separates the professional captains from the ametuer skippers. It's imperative to have a captain behind the wheel who can get your boat from point a to point b in a timely and professional manner, but also someone who knows what to do in case the engine dies and the boat starts to drift toward a reef. That's why it's so important to do your research and pick somebody with a record of getting the boat safely to the destination – every time. 
A good captain will go to hell and back to get your boat where it needs to be in good condition, and not risk the lives of the crew or anyone else on the water. 
I remember when the 27 foot sailboat I was delivering from Panama to French Polynesia got stuck without wind in the middle of the worst El Nino season in recorded history. Many larger vessels that were sailing the same route were forced to motor for up to a month in an area where there are typically consistent trade winds.
On the tiny vessel that I was captaining, however, that simply wasn't an option. I was faced with the decision to either turn around and return to Central America or face weeks or more becalmed in a windless sea. 
The owner admitted that he probably wouldn't be able to afford keeping the boat in Panama for another year, and that he would likely have to put the vessel up for sale if I chose the former option. I looked over my provisions and water and confirmed that I had enough emergency rations to make it safely to French Polynesia even if we were stuck for weeks. I wasn't too keen on returning to Panama with my tail between my legs, so I decided to continue west. 
62 days later I sailed into the Marquesas Islands, having eaten nothing but white rice and wild caught fish for the last three weeks of the delivery (see my notes on provisioning for emergencies in the section below). To date it's my longest nonstop passage at sea.
Or there was the time that I was delivering a vessel from Australia to New Zealand via the Tasman Sea, when just a few days out of Adelaide the engine called it quits. I completed the rest of the voyage through the Southern Ocean and around two of the Five Great Capes totally without auxiliary power.
The rough seas and unforgiving conditions in that part of the world tested my skills as captain, but I was determined to get to port on my own. Unless the lives of the crew or the safety of the vessel is at risk, I never ask for help. It's my belief that boaters should never put the lives of rescuers in danger by asking for assistance unless it's absolutely necessary. 
I made up my mind early in my career that every boat that I captain would make it safely to the destination regardless of the challenges en route. Fortunately, I have been able to maintain a 100 percent success rate on deliveries to date. Sometimes that means taking extra weeks or months to complete what should have been a short delivery, with no extra pay or benefits. But I didn't get into the yacht delivery business for money, I do it for my love of boats and the sea. 
Before you start looking for a delivery captain, you will want to gather some basic information about the boat and the delivery route. Write an email to the delivery service that covers the key information about the boat – the make, design, year it was built, the current condition, what types of safety and navigation equipment is onboard, any issues that the captain should know about – and attach a copy of the most recent professional survey if you have one.
This information will be necessary for the potential captain to determine if the vessel is suitable for the voyage. Add details about what you are seeking for the delivery – the port of departure and where you want it delivered, as well as a desired schedule or timeline for when you want the boat moved.
It's also very helpful to attach some recent pictures of the boat to your yacht delivery inquiry – this will help the captain see the condition of the vessel and, after all, a picture is worth a thousand words. 
What you should not do is send a quick one liner message – "hey, how much to deliver my boat to Singapore?" – without any details about the vessel and delivery that you are looking to arrange. Delivery captains get hundreds of messages like this every year and they don't go anywhere. 
You may also wish to talk on the phone, but most professional captains prefer to use email to communicate about delivery business. On the phone it's so easy to forget an important question or detail, and with emails all communication is kept on file in case an issue comes up later. Also, delivery captains spend much of their time away from cell service, and in different time zones. 
If the boat has not been recently used or is not in a seaworthy condition, you should consider an alternative method of having the boat transported like shipping or trucking (see the section on yacht delivery alternatives below). A delivery captain must trust the vessel with the lives of his crew and attempting to deliver a boat that is not prepared for the sea is asking for trouble. 
Once you have compiled the basic information about the boat in an email, it's time to look for a captain. There are many ways of going about finding the right person – you can search online, ask around at your marina with other boaters or place an advertisement seeking help. 
You will want to make sure that the captain is truly a professional and has the experience that is necessary to get your vessel safely to port no matter the difficulty. In this day and age, all professional delivery captains will have a government issued license appropriate for the types of vessels that they captain as well as a website to advertise their services. 
Consider the age and health of the captain. Many delivery captains are in their 50's, 60's or even older, which may mean that they have logged a lot of time at sea. But a younger captain and crew may have the advantage of good health and youthful energy to keep things running smoothly. The last thing you want is to have the captain evacuated at sea due to an unfortunate medical emergency. 
One client came to me after his 59 year old captain suffered a heart attack during rough weather a few days out from San Francisco. The captain was evacuated by a Coast Guard helicopter and the boat had to be towed to the nearest port. This unexpected disaster ended up costing the owner tens of thousands of dollars for what should have been a relatively cheap delivery. 
Fortunately, the captain survived, and the boat made it to port without serious damage. After his recovery, the captain immediately returned to delivery work, and again suffered another heart attack on another delivery less than a year later. Last I heard, he was still in the delivery business, despite the obvious risk to his crew and the vessel. 
Here in the United States, the standard certification for a delivery captain is a United States Coast Guard License. It's not a bad idea to ask any potential captains about their certification as well as to see a copy of their CV.
On the water, almost everyone behind the wheel calls themselves "the captain", but in reality, captain is a legal term reserved for those who have obtained the appropriate certification through the merchant marine. Everyone else who pilots a boat but lacks official training is technically a "skipper".
Often there are unlicensed skippers illegally operating as delivery captains who offer an amazing price but lack the experience to get the boat delivered safely to port. A quick check up on their credentials should confirm that you have hired the right person for the job. 
Depending on your insurance, the company may require the captain to hold a certain level of credential with the merchant marine in order for them to insure the vessel for the duration of the delivery. They may ask to see the captain's CV, and for the crew to also have offshore experience as well. If you have any questions about this, you will want to contact your insurance company prior to hiring the captain to make sure that everything is in order for a smooth trip. 
Talk with the potential captain about the ideal timing for the delivery. Make sure to consider seasonal weather conditions and try to plan accordingly for a safe voyage. Delivery captains are often hired to deliver boats in the off season – that's part of working in the business. But it's not a good idea to deliver a boat across the middle of the Pacific during the height of hurricane season, for example, or across the North Atlantic in mid winter.
For me, safety is where I draw the line. I have moved boats during hurricane season, but only when I know that I am sailing along a route where there is ample time to get the boat to a safe harbor before a tropical storm hits. The same goes for high latitude passages in the winter.
I have completed deliveries at 50 degrees north in the late December, but the boat owner understood that I would only move the boat during good weather windows and that it was possible much of the delivery would be spent waiting for a safe time to depart. 
Yacht Deliveries – How Much Will it Cost?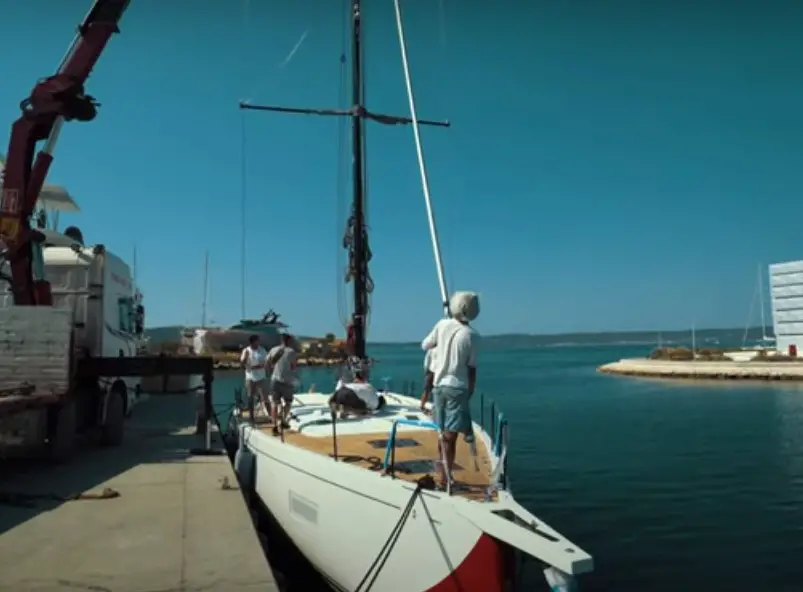 How much does a yacht delivery cost? It depends on several factors – the size and type of vessel, the distance of the voyage itself, the difficulty and risk factors for the route, the number of crew required, and the cost of variable expenses like food, fuel, marina costs, entry and exit fees, etc. 
Delivery captains usually charge one of two ways for their services – either a daily rate or a price per mile. For a mid size cruising vessel in the 30-60 foot range, the daily rate for a professional captain varies from $350 to $500 per day or more. Crew are usually around $100 to $200 each per day. 
In order to avoid running up the costs for my clients in the event of unexpected delays due to poor weather conditions or stopping for repairs along the way, I usually charge a price per nautical mile, agreed upon with the vessel owner prior to departure.
For small vessels, my rates start at $1 per nautical mile and run up to $6 or more for vessels over 60 feet in length. I also offer a daily rate for boat owners who prefer to go that way, and in the case that another yacht delivery company offers a lower rate, I will always match it. 
I have a minimum price of $2,000 for short deliveries. Even if the boat only needs to be moved a short distance, every delivery requires the same careful preparation. Most of the challenging work on deliveries is either at the start and the end – so I usually find short deliveries to actually be more tiring than long ones! I seek out longer jobs and offer a 40% discount on trips over 5,000 nautical miles. 
Since most of the work is done before departure, there is no such thing as a one day delivery. By the time we leave the dock, most deliveries are several months in the making, regardless of the actual distance sailed. 
So what does it cost in the end? Here are a few examples from recent deliveries I have done with my business Ocean Ventures. 
Jeanneau 345 San Diego CA to Puerto Vallarta Mexico – 1,100 NM –  $4,600 USD

Bruce Roberts 39 Adelaide Australia to Bluff New Zealand – 1,900 NM – $6,200 USD

Jenneau 49 Tahiti to San Francisco via Hawaii – 5,000 NM – $12,000 USD

Matrix 27 Boca Chica Panama to Nuku Hiva French Polynesia – 4,000 NM – $7,400 USD

Contessa 26 Grand Bahama to Balboa Panama – 1,500 NM – $3,200 USD

Valiant 40 Seattle Washington to Portland Oregon – 400 NM – $2,400 USD

Beneteau 42 Greece to Australia via Panama Canal – 14,000 NM – $24,000 USD
I always try to offer the very lowest price possible while still making a living doing it. Even after accounting for variable expenses like food and fuel, my deliveries usually cost the boat owner less than 50% of what they would pay to ship the vessel onboard a freighter or truck it overland, and at least 25-50% less than most competing professional yacht delivery companies. 
While it's important to make sure you are getting a fair price for the delivery, it's important to not fall for scams offering free or near free yacht delivery services. Many boat owners, looking to pinch every dollar, have ended up turning to pseudo professional services to deliver their vessel. While it's often possible to find some random boater who is willing to move the boat for near free, these arrangements regularly end in disaster. 
It's easy to fall for this kind of thinking. After all, boating is fun, we all spend a lot of money to maintain our vessels so we can sail them, so why should we have to pay a professional to move our boat when the guy down the dock has offered to do it for a few packs of ramen and a bottle of rum?
But just like in any industry, you get what you pay for. It takes a lot of skill to move different boats around the world in all different conditions and know what to do when things go wrong. That's why, when it comes to your beloved vessel, you want to pay what it takes to get her from point a to point b by a licensed captain who has the experience necessary to get her there in one piece. 
You want the pilot flying your jet to be very professional – and the same goes for the captain behind the wheel of your ship. 
While budgeting for the delivery, you will need to make sure to factor in variable costs like food, fuel, transportation to and from the vessel (for the captain and crew), marina costs, and repairs underway, as well as entry and exit fees and cruising permits for any pit stops along the way.
In the time of COVID, you may also need to factor in mandatory testing or quarantines into the delivery budget depending on the route. While it can seem overwhelming to consider all the different expenses, the delivery captain should be able to help you get a good idea of what to expect. 
As for payment terms, it is normal to pay the delivery fee at the time of signing the contract and then cover the variable expenses at the end of the delivery. A professional delivery service will keep track of all expenses along the way, check in to confirm before making any significant payments, and present you with receipts along with the invoice at the end of the delivery. The captain should be paid before departing the vessel so that you can work out any issues in person. 
If the boat owner decides to cancel the delivery prior to departure, I give them a full refund. In the case that they terminate the contract along the way (which thankfully has yet to happen), the captain should be paid for the portion of the delivery that is complete and the boat owner refunded the remainder of the delivery fee, less any variable expenses accrued en route. 
Preparing for the Delivery
The Contract
Once you have found a captain and agreed upon a price, it's time to seal the deal with a contract. The delivery contract should cover all aspects of the delivery, from the port of departure to the schedule and the terms of payment. I have a rough draft that I customize to suit the needs of each vessel owner. If it's a high cost delivery or an expensive vessel then it's a good idea to work with a professional notary agency to make sure the contract is seamless. 
Below is an example of a delivery for a theoretical delivery from California to Hawaii. Each delivery contract is different, but this example covers all the basics:
Ocean Ventures Yacht Delivery
P.O. Box 1234
Seattle, WA
1 (123) 456-7890
May 6, 2021 
Delivery Contract: Jeanneau 45 San Francisco, CA to Honolulu, HI
Make of Vessel: 2015 Jeanneau 45
Port of Departure: San Francisco, CA, USA
Port of Delivery: Honolulu, HI, USA
Target Departure Date: December 1, 2021
Target Arrival Date: December 15, 2021
Assumed Distance: 2,250 NM
Budgeted Time: 15 days +-
Crew Provided: Captain plus two crew members
Planned Route: San Francisco – Honolulu direct
Delivery Fee: $10,000 USD plus variable costs
Conditions: Contract valid upon signing of document by both parties and initial deposit by vessel owner.
Included in this fee is: the skipper's fee, crew wages, normal preparation of the vessel for the journey, passage planning, weather routing, vessel tracking.
Variable Costs: fuel, food, marina costs, repairs en-route, transportation to and from the vessel. Any variable costs are to be agreed upon between the Captain and the owner prior to purchase. Captain is to present the owner with receipts for any variable costs incurred upon completion of the voyage. 
Payment conditions: Full deposit ($10,000 USD) to be paid upon signing of the contract. Variable costs incurred enroute are to be paid upon successful delivery to destination prior to the Captain leaving the vessel. The payments can be made via PayPal, Venmo or direct deposit. Any processing fees for the payments are to be covered by the vessel owner. If the owner decides to cancel the contract prior to the start of the delivery, the full deposit is to be refunded to the owner, minus any variable costs incurred.
Vessel is to be deemed seaworthy by the Captain before departure. Normal preparation of the vessel includes provisioning, inspecting engine, mechanical systems and electronics, sea trial, route planning, obtaining fuel and water and readying the crew for the voyage. In the event the vessel needs additional refit or repairs before or during the delivery, the Captain can be hired for $250 USD per day.
Captain reserves the right to deviate from the planned route and to make stopovers for repairs, weather, or any emergency purposes in the interest of the safety of the vessel or the crew. Captain reserves the right to terminate the contract before arrival at the delivery destination in the interest of the safety of the vessel or the crew. In the case of early termination of the contract, the vessel must be left in a port found suitable by both the Captain and the owner, and the owner will be refunded for any uncompleted portion of voyage already paid, less travel and other variable costs. Captain reserves the right to select and replace crew in the interest of safety of the vessel or crew.
In the case of emergency, damage to vessel or loss of vessel, Captain will not be held responsible so long as satisfactory measures were made to avoid damage and all actions were made in the interest of the safety of the vessel and the crew. 
Delivery Captain
Capt. John Doe:    ____________________            Date: ________________         
Vessel Owner
John Smith:          _____________________         Date:_________________
Outfitting the Boat:
Once the terms have been agreed upon and a deposit is in place, then it's time to prepare the vessel for the voyage. It is important to ready the vessel for the passage as if you were sailing it offshore yourself. As my good friend and fellow yacht delivery captain likes to say, you win the war before the battle even begins. Proper preparation is everything. 
The level of preparation that is required depends on the type of vessel and the route the delivery will take. If the delivery is just a short coastal passage in an area with few serious hazards, then I simply require that the vessel be in good working order, that all the essential systems onboard are functional – especially the engine – and that there is some kind of functional dinghy onboard.
Of course, prior to departure, all vessels must have their licensing and documents up to date, and they must have all the United States Coast Guard mandated safety gear onboard. 
These days, with many vessels using gasoline engines and propane cooking stoves, it is essential that the boat has fire extinguishers that are up to date and an evacuation plan in case of a fire. I just watched a boat go up in flames and sink two days ago in front of my house on the Strait of Juan de Fuca. Fortunately, the Coast Guard got to the boat in time to evacuate the three crew members before it was too late, but watching the incident up close was a clear reminder of how serious a risk an onboard fire can be.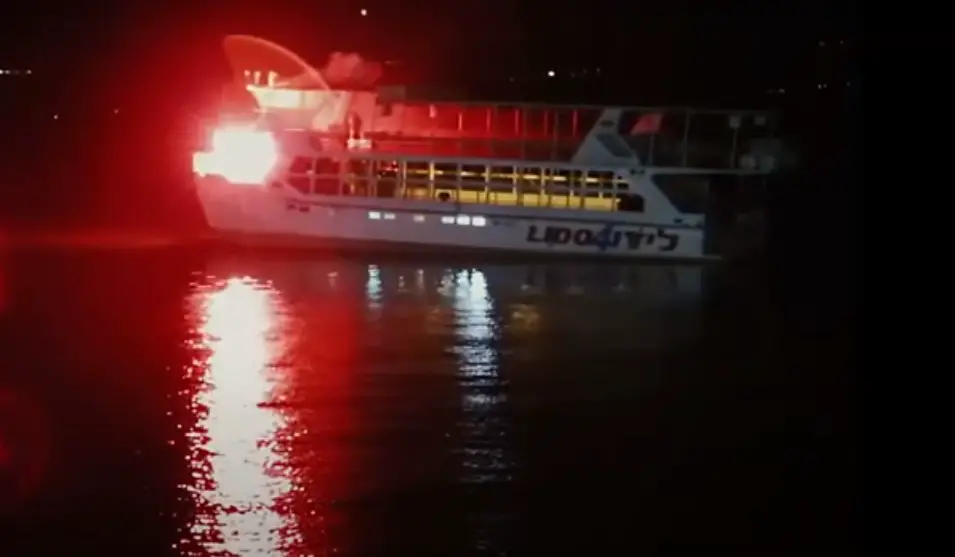 If the delivery route is offshore, then I always require that the boat has a recently inspected inflatable life raft and EPIRB (Emergency Position Indicating Radio Beacon) onboard. If the delivery route will pass through waters where hypothermia is a possibility, then I also require at least one survival suit onboard for each crew member. Even in a life raft, hypothermia is a serious danger, and having the suits aboard could potentially save a life in an emergency. 
For boats that are not equipped with this safety equipment and the owner does not wish to purchase it, I have gear available for rent. With enough notice I can ship the gear to the boat prior to the delivery, or bring it with me depending on the location of the vessel.
Renting always ends up being much cheaper than buying a liferaft, EPIRB and survival suits, but if the owner plans to use the boat offshore after the delivery I always recommend that they purchase the gear so that it's onboard for future trips. An upcoming yacht delivery is a great opportunity to outfit and improve your vessel. 
I also recommend that all vessels I am delivering to have an Automated Identification System (AIS) onboard. The AIS connects to the onboard VHF radio (also an essential piece of equipment) and a GPS to receive signals from nearby large vessels. These signals are sent to the chartplotter – or your phone or tablet – so you can see the name, size, port of registry, last port of call and destination for all nearby vessels that are also equipped with an AIS transponder. 
It also shows how close you are to a potential collision course with other vessels if you keep your current heading. Especially in poor visibility or in areas with heavy shipping, an AIS is a game changer that will make every passage much safer if used correctly. 
Your AIS system can either be a receiver, which only receives information from nearby vessels, or a transceiver, which also transmits your position to nearby vessels. Today, all vessels over a certain size are required to use an AIS, but not everybody on the water plays by the rules 100 percent of the time, so it's still important to keep a close lookout for ships while on passage. You can upload an AIS app to your phone, but keep in mind this will only work in areas with good cell reception, so it's no alternative to the real thing for an offshore delivery.
Prior to the delivery captain arriving at the boat, you should have a professional mechanic tune up the engine. Explain to them that the boat will be going on this delivery, and ask them to make sure that there are spare parts onboard for any common breakages. If the electrical system needs attention, then it's important to have a marine electrician onboard before the departure too.
If you haven't had a recent survey done on your vessel, this could be a good time to get it done. The surveyor may notice something important that is easy to miss for the casual boater. The delivery captain should spend a day or two going over every part of the boat to deem it seaworthy before departure, but it doesn't hurt to have a surveyor check things out beforehand. 
Make sure there are manuals onboard for all the systems on the boat, and don't forget to map the locations of all the thru hulls. Show the captain the location of each one and then give him the diagram to keep with the manuals. If the vessel starts to take on water from an unknown source, the first place they will check is the thru hulls. I also tie a wooden bung to each thru hull, ready to be used to stop water in an instant. It could save your boat. 
Make sure that the vessel has recent charts covering the entire route, as well as back ups in case the primary navigation system fails. I bring navionics charts on my phone and tablet (equipped with an internal GPS receiver that doesn't depend on cell service) as well as at least one other handheld GPS and my Garmin InReach satellite messenger. On most deliveries I have at least five or six ways of obtaining my coordinates. 
As they say, one is none, two is one. Redundancy is everything at sea because equipment can be counted on to fail in the highly corrosive marine environment. 
Unless the delivery captain plans to bring along extra crew for hand steering, some kind of autopilot is essential for any delivery over 200 nautical miles in length. For sailboats, an electric autopilot paired with a windvane self steering system is best. The windvane will steer the boat while under sail, and the autopilot can be used in light winds or while motoring. 
Regardless of what self steering systems are on the boat, the captain should have a plan in case the self steering fails. Autopilots are one of the most common pieces of equipment to break on an offshore passage, and I know from experience that hand steering for weeks on end will drive even the most salty boater mad. A few stints of 48 hours nonstop at the wheel have driven me to swear off boating for the rest of my life, although I always came back around after a couple days back in port. 
If it's a sailboat, you will want to have the entire rig and sails carefully checked over by a professional rigger before the delivery. A little corrosion can cause a stay to break, leading to a dismasting (when the mast breaks and the crew are forced to build a jury rig to get to port). It's important to be able to sail with confidence, so don't forget to tune the rig. 
For longer deliveries, fuel and water capacity is an important consideration. I always make sure to have twice the amount of water I expect to need for the passage, as well as a small reserve of bottled water that is only to be used in an emergency (ten days emergency supply minimum, for ocean crossings). 
For fuel, I also make sure to have a significant surplus in case we end up motoring more than expected. For deliveries from Hawaii to California, I plan for a 1,000 nautical mile motoring range, and I have always had plenty left over to complete the trip. If the onboard fuel or water capacity isn't enough for the passage, I bring extra jerry jugs, or for larger vessels a collapsible fuel bladder to extend the range.
I apply the same technique to provisions, bringing twice the amount I expect to need. I make sure to take the bulk of my food in non-perishable items. That way the fresh food gets eaten first, and whatever is left at the end of the delivery can be used by the boat owner for future cruises. It's nice to bring a balance of foods that require more preparation with easy snacks and freeze dried foods that can be quickly eaten when conditions are too rough for cooking. 
For ocean crossings, the captain should bring enough emergency food for the entire crew to survive an extra month at sea, minimum. If the boat is dismasted, for example, having the extra supply of food can hold them out long enough to get to port. 
Many boats have been abandoned unnecessarily because the crew were not prepared for this type of situation. The survival rations can be simple things like rice and beans, but make sure that there is also a solid supply of foods that don't require cooking. If the stove dies, or the crew are adrift in a liferaft, this will be their sustenance. I recommend high calorie, nutrition dense foods like complete nutrition shakes and bars.
The captain should have no problem finding extra crew to bring along if necessary. It is often tempting for inexperienced boaters to ask to join the delivery as a learning experience, or to send their friends or family along as crew.
This arrangement usually works out fine, but I always insist on bringing crew that I have already completed at least one offshore passage with before because if the situation ever becomes dangerous I need to trust the crew with my life.
Instead of bringing along inexperienced crew or boat owners, I offer them a few days of sailing lessons at the port of delivery instead. It is a much better idea to introduce new boaters to life on the water in protected waters than on an offshore delivery.  
Finally, make sure that your insurance is up to date and covers the boat for the duration of the delivery. Depending on where you are having the vessel taken, you may be required to change your policy to cover additional areas. Don't forget to make sure that the captain and crew qualifications meet the requirements set by your insurance company for offshore passages. And lastly, it's a good idea to make sure your policy covers towing for short distances, in case an unexpected engine failure or another problem necessitates a tow into port. 
The Delivery Itself
Once the delivery has begun, the hard part is over, especially for the boat owner. With a well prepared vessel and a good delivery captain, it's now time to sit back and watch your vessel move across the map toward your destination. 
While on delivery, I use my Garmin InReach satellite messenger to send regular position reports to the vessel owner. I keep it on at all times, so that they can check up on the status of the delivery whenever they want. 
It's a good idea to try to hold off messaging the captain every five minutes to check in. It's natural to be excited at the thought of your boat being out there at sea, but the captain needs to focus on delivering the boat.
On delivery, I get regular weather updates from a weather router ashore to plan my sailing route. I also keep a mechanic handy in case an issue comes up with one of the mechanical systems onboard. Aside from them and my family, I keep communication with land to a minimum so I can focus on the job at hand – getting the boat delivered safely. 
Once at sea the captain will establish a watch schedule. Even while steering under an autopilot, the captain will still need to ensure that there is always someone keeping a lookout while under way. For a regular cruising sized vessel, it is typical to have two crew members in addition to the captain onboard for deliveries. Then the boat won't be overcrowded, but everyone has enough time to rest in between stints at the wheel. With three people onboard, I like to schedule watches for four hours on, eight hours off, twice daily. 
Unless conditions are particularly bad, or I need additional help with something, the crew are free to do whatever they want while off watch – cook, read, write, fish…and of course there is also a lot of time spent on keeping up the boat. I always make sure that every boat gets to port in better condition than when we left, and that takes work! Along with maintenance, most of my time is spent navigating, analyzing the weather, and keeping the boat moving in the right direction. 
At night, or whenever conditions are rough, I require all crew to wear safety harnesses whenever they are on deck. The last thing you want on a delivery is to have to initiate a search for a crew member who fell over the side. Because I always bring experienced crew on a delivery, I know that I can trust them to take safety precautions seriously. 
If it is a long delivery, the captain should factor in stops for reprovisioning, topping up fuel, and to give the crew a little time to rest. Depending on the route and the timing for the delivery, the captain may be required to wait in port for a safe weather window to continue. It's always best to wait rather than to push the boat in bad conditions. After all, you want the boat to arrive in excellent condition, and the delivery captain wants a smooth delivery with as few complications as possible. 
There are always unique challenges that arise on international deliveries that would have been impossible to predict. Currently, delivery captains have the extra challenge of working with complex covid regulations and safety hazards. Despite the extra complications, more boaters have turned to delivery captains than ever before to be able to get their boats home during the covid-19 pandemic. For many boaters, it's their only option to be able to use their boats again in the foreseeable future. 
Fortunately, professional crew are often exempt from mandatory quarantines and travel bans, allowing yachts to be delivered to some places where travel is otherwise restricted. The other benefit of long distance yacht deliveries is that there is no better place to social distance than on a boat.
Regardless of the local regulations, I require each crew member to take all necessary precautions to avoid contracting or spreading covid on a delivery, including testing when necessary. By being careful, my business has made it all through the pandemic without one crew member getting sick.
If all goes well onboard, your boat will be approaching the delivery destination before you know it. You will undoubtedly be excited to see your boat, but it's a good idea to let the captain handle the final approach and docking himself. They are professionals and extra people running around will only make things more complicated. 
Once the vessel is secure and the captain has given you the confirmation that the delivery is complete, it's time to come down and check out the boat. You can go over the vessel with the captain to make sure everything is in order, and then send him the final payment for any variable expenses incurred along the way. 
Especially if it has been a long voyage, it's a good idea to give the captain and crew a day to pack up their things and make travel arrangements. If the weather was rough, then the crew was likely too preoccupied with keeping the boat running to prepare for shore. After weeks or months onboard the boat, it's a common courtesy to arrange accommodations on land for the first night for the crew. They will be ready for a shower and a meal after so long at sea, and even a budget hotel room will be greatly appreciated. 
Congratulations – your vessel is now officially home and it's time to go cruising!
Shipping and Trucking – Yacht Delivery Alternatives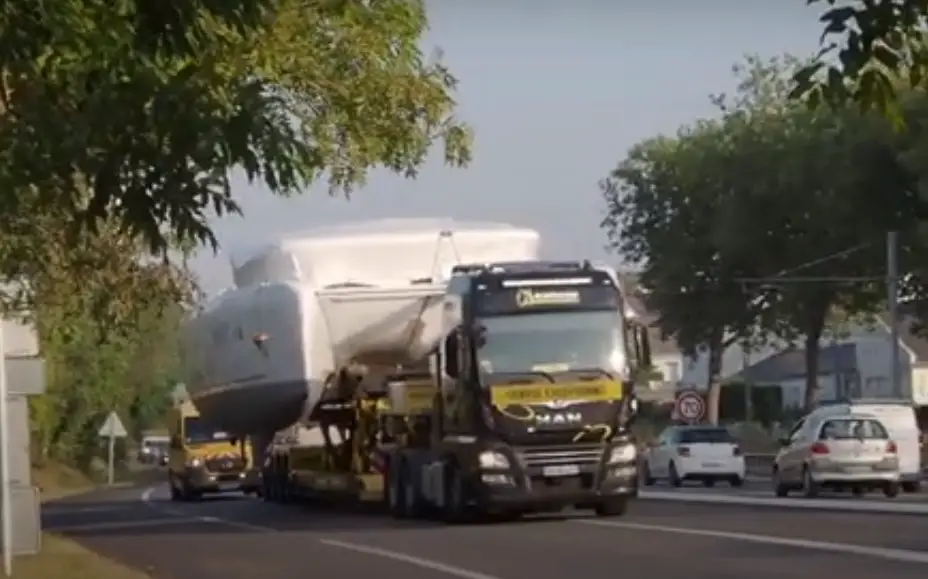 Before settling on a yacht delivery to get your boat moved from point a to b, it's a good idea to consider the alternatives. For most yachts there are two other options to consider – either shipping the vessel on a freighter, or to have it trucked overland (for deliveries that don't cross an ocean).
Both alternatives are not without their downsides, but in certain circumstances they can be the most logical option. Let's explore these two alternatives, starting with trucking the boat overland.
Hiring a trucking service to move the boat can sometimes make more sense than hiring a delivery captain, depending on the route, the size of boat and the time of year. I recently had a customer who came to me after being quoted $4,000 usd to have his 32 foot motor vessel hauled from Gig Harbor Washington to Portland Oregon on the highway. He was turned off by the high cost, and the complications with hauling the boat out and relaunching it at the delivery destination. In his case, I was able to move the boat for half the price of having it trucked overland. 
This delivery was in the off season, and we ended up having to wait a few extra days for the weather to improve to be able to finish the trip. If the boat owner was more concerned about time and cost wasn't too much of an issue, having it trucked overland may have been the preferred choice. 
I get a lot of requests for deliveries from California to Washington, which is a difficult voyage. This delivery route is challenging because the entire trip is against the prevailing winds and currents, and there are few safe ports to enter without a dangerous bar crossing. In the winter, it can sometimes mean waiting weeks for the appropriate weather window to develop in order to continue the delivery. 
For boat owners who are looking at this particular delivery route, trucking can be a much faster option. They just have to be fine with paying a higher cost per mile, and be willing to deal with the complications of hauling the boat out of the water, lowering the mast if it is a sailing vessel, securing the boat to the trailer, and then reversing the process on the other side. 
If you end up deciding to truck your vessel overland, remember to make sure the vessel is insured for any potential damage caused along the way. It's not uncommon for boat's to suffer harm while being trucked overland. 
The second alternative to yacht delivery is having your boat shipped on a freighter. For those seeking to have their boats moved overseas, this is the only other choice. 
Sometimes boat owners are concerned about wear and tear from a long voyage at sea, and understandably so. Long ocean passages can be hard on the boat. With this in mind, some owners choose to ship their vessel with a yacht shipping company like United Yacht. 
Some of these companies use freighters which fill their ballast tanks enough that the ships sink low enough in the water to sit below the waterline. The yachts are maneuvered onto the ship and then the water is pumped out, allowing the ship to return to its original position. They then sail to the delivery destination and reverse the process. Other yacht shipping companies use cranes or travel lifts to haul the yachts onboard. 
The downside to this transportation method is the high price tag, and the fact that you are limited by the shipping company's preplanned route and schedule. The companies deliver to many of the primary cruising grounds, but if you want your vessel delivered outside this area, you may have to actually hire a delivery captain to finish the job! Of course, just like trucking overland, you also have to worry about the vessel being damaged enroute. 
Even with all this taken into account, there are some circumstances where using a yacht shipping company makes the most sense. For example, if you are wanting to deliver a yacht through a high risk piracy area (like from the Meditteranean to the Seychelles, via the Red Sea and coast of Somalia) hiring a yacht shipping company can be a safer alternative than asking a small delivery crew to take on the high risk route.
Many large ships hire professional security to offer protection in the case of an encounter with pirates, which isn't practical for a small private boat. For routes like this, I would recommend using a yacht shipping company.
Hiring a Delivery Captain – Making the Final Decision
Making the final call about whether or not to hire a delivery captain is a big decision. There are many factors to consider, from making sure your boat is ready for the voyage, to finding the right captain, to agreeing on a delivery budget. But for many boat owners, it's well worth it to know their boat was sailed across the ocean in good hands. If you pick the right delivery company, they will help you every step of the way. 
Many boaters would like to sail their vessels all over the world, but that's not always possible. By hiring a yacht delivery captain, you can transport your boat across the bay or across the hemisphere for a much lower price and for much less hassle than any other option. 
As a professional yacht delivery captain for all of my adult working life, there's nothing I like more than handing over a fine vessel to it's happy owners in a totally different part of the world. 
Just a few days ago I took a small vessel up across the border to Canada, dropping it off on a small island in Desolation Sound. The owner was so excited that he was already looking at charts of the South Pacific. 
"My friends just arrived in Tahiti on their yacht, and I would like to be there with them this time next year", he said. "I want to sail around the Society Islands, but my wife and I are just barely getting started with figuring the whole boating thing out. What would you think about taking this old girl to Bora Bora next spring?"

"She passed the sea trial with flying colors, so I'd say we are good to go", I said. "When you are ready to move her down there, let me know. It's a tough job, but somebody's gotta do it."
Owning a boat and making decisions like hiring a delivery captain requires a lot of knowledge. Fortunately, you can find everything you need and more right here at SailAndProp.com. We will be publishing new content every week, so don't forget to sign up to our newspaper so you never miss the latest boating news and information!
If you are thinking about crewing on a yacht delivery, make sure to read the next article in the series, "How to Crew on Yacht Deliveries".