What if I told you that there was a way to travel the world on beautiful and expensive yachts without the hassle and expense of owning or chartering one yourself? What if I told you that often you could stay on these boats for free, all expenses paid, or even earn money doing it?
It may sound like clickbait – but this is not a scam. The way you can sail on yachts – from the Greek Isles to Bora Bora – without ever paying for it is by crewing on professional yacht deliveries. 
I know, because I did it for years. In my mid to late teens I signed up as crew for captains who were hired to move yachts from point a to point b without the owner even onboard. I visited dozens of countries all over the world, and was even able to gain enough experience to get my captain's license and launch my career as an offshore yacht delivery captain. 
Of course, like anything that sounds too good to be true, it isn't. There are many challenges that yacht delivery crew face trying to get onboard the right vessels, and the risks involved are very real. I was lucky enough to make some really great connections and gain solid offshore experience fast, but I made a lot of mistakes along the way and learned everything the hard way. 
As with everything in long distance boating, the risks involved in a bad mistake are potentially fatal. Crewing on offshore yacht deliveries definitely isn't for everyone, and you need a solid understanding of what you are getting into before you climb aboard your first boat. For every long distance yacht delivery contract that I sign I get over one hundred emails, messages, or texts from people who want to join as crew. Most of the people reaching out didn't even know where to begin with getting onboard a boat delivery. 
That's why I wrote this guide – so you can understand everything you need to know about joining a yacht delivery, before setting foot on the dock. Sailing across the oceans as a yacht delivery crew is the adventure of a lifetime, and it's more than possible to achieve if you are determined to make it happen. 
If this is something you want to give a try, then keep reading, this guide was written for you!
Yacht Deliveries in a Nutshell
My journey as a yacht delivery crew member started when I was 16 years old and trying to sail around the world. It may sound like a typical teenage pipe dream, but I had been preparing for this adventure all my life leading up to that point. The first time I ever went sailing was before I was able to walk, and the best memories of my childhood were the time my family spent sailing around the Pacific Northwest. 
By the time I was five years old I was drawing up designs for the boat that would take me around the world. That same year, my grandfather, who had spent his entire life sailing offshore and building cruising vessels, told my parents that I knew more about boats than he did. It was definitely in my blood. By the time I was 14 years old, I felt ready to go. I spent the next four years invested in raising sponsorship to sail around the world and skipping school to occasionally sail across the Pacific Ocean.
The first long distance ocean crossing I had ever made was just after my sixteenth birthday, when I sailed from San Diego to Hawaii with my friend Brian. By that time I had already tried to get on dozens of different deliveries, but in the end it never worked out because either the captain thought I was too young to sail offshore or my parents didn't trust the skipper. 
I was finally allowed to join the delivery with Brian because he was a well known figure in the sailing world, and my parents were convinced that he would be a safe captain. He had sailed around the world at age twenty, so he understood my ambition to complete a circumnavigation. He was one of the few people I ever met who had also crewed on offshore deliveries as a teenager. 
I flew down to San Diego and the rest was history. I later made many more ocean crossings with Brian all over the Pacific and Caribbean, gaining thousands of offshore sea miles on many different types of vessels. Combined with my lifetime of sailing around the Pacific Northwest and my years of studying all things boating, I was able to obtain my captain's license the following year, when I was just 17. At the time I was the youngest person to ever complete the course. 
You too can crew on yacht deliveries to build up your boating resume and accumulate sea miles. Without the experience that I gained from crewing on offshore yacht deliveries, I don't think I would be where I am today as a sailor. Crewing on this type of voyage is a great way to get started in sailing for people who, like me, didn't have enough money for a boat of their own. 
Getting Ready to Find a Boat – The First Steps
I often get emails from people with no experience who ask to join as crew on my deliveries. Sometimes they even ask to be paid, even though they have never set foot on a boat! I always laugh when I get messages like this, and then send them directly to the trash bin. If you want to be taken seriously as a potential yacht delivery crew, don't be like these people. 
Joining a delivery is a little bit like crewing on a fishing boat. No serious captain is going to sweep in crew from the street. Once you leave the dock, you will be spending weeks or months with the other crew members, and at times their life will be in your hands. Before trying to crew on a professional delivery, you need to develop a solid understanding of the boating life, as well as gain some coastal crewing experience. 
On a recent delivery down the Oregon Coast, I caved into the pressure to bring along the boat owner and his three friends who had never sailed offshore before. The beginning crew were all really great people, and it was a short delivery, so I figured everything would be ok. 
Before departure, I explained how we would do everything at sea, and what to do while on watch. I would be handling the boat 90 percent myself, and the crew's job was to keep watch and alert me when anything happened. I made it especially clear to be cautious about nearby ships, because the vessel was not equipped with an AIS (Automated Identification System) to alert nearby vessels of our presence in the area. I also instructed the crew members to keep watch in pairs of two, for safety reasons and to keep each other awake. 
On the second night out, I was awoken by one of the crew members mumbling something about not being sure if we were too close to a ship. I climbed out into the cockpit and looked up to see a massive freighter bearing down on us. It was so close that I was looking up at the ship, not over at it. By the time I got myself to the wheel, the sound was like a dozen freight trains all approaching at once, and it was far too late to get out of the way. 
Fortunately, we were pushe decide by the water displaced by the massive ship, and we were simply thrown around like a toy instead of being crushed into a thousand pieces. After the freighter had passed, my heart kept beating like it was about to burst for several minutes. Then, the crew member who had been on watch turned to me. 
"I guess it might have been a good idea to change course a little bit earlier", she said.
Yeah, just a bit! 
I knew better than to take first time crew on an offshore delivery, but I had been willing to be pressured to bend the rules in order to get this job. I have only taken proven crew members on all my voyages ever since. 
A yacht delivery is a job, not a sailing school. The last thing a captain wants is to be teaching crew members something like how to reef a sail for the first time in the middle of a serious squall – or worse, a severe storm. Taking crew with no real boating experience on a blue water delivery is a recipe for disaster. 
Instead, I recommend people who want to crew to start by immersing themselves in the boating world. I was fortunate enough to be born into a multi-generational family of boaters. But nobody in my immediate family had the same offshore sailing ambitions that I did. So I spent all my time between the age of 5 and 16 reading every single thing I could get my hands on about sailing. I read practically every boating book ever published, all the nautical themed magazines, and of course researched extensively online. 
People who want to crew on yacht deliveries should do the same thing. The internet provides a wealth of information, but be wary not to go too deep down the online rabbit hole. Online sailing forums and boating vlogs can be entertaining, but they are often taken over by armchair experts that have little real world experience to back up their endless opinions about everything boating. Instead, I would recommend aspiring boaters to stick to websites that publish pieces by professional boaters, like SailAndProp.com.
Once you have a solid understanding of all things boating, it's time to get yourself on a boat. The best place to start is on short coastal trips. I actually recommend starting with a small sailing dinghy if possible – no matter how massive the yachts you wish to sail in the future. The sailing fundamentals are the same for a small dinghy as a massive ship, but the small boat is much easier and safer to handle. Once you have mastered navigating the small boat in all conditions, then you can move your way up to larger craft bit by bit. 
Boating is something learned over a lifetime, not a weekend boating course, and rushing things won't make you learn any faster. The best way to become a good sailor is to spend as much time as possible on the water – and stay as far away as possible from yacht club bars (Where crusty "sailors" who haven't left the dock in 30 years spin yarns about the time they fought 100 foot waves on the Columbia River Bar). 
I have found that in the world of sailing, like war veterans, the more someone talks about their exploits, the less real world experience they have. As a relatively young captain, I have often pulled up to the dock after completing an ocean crossing, just to find myself being lectured by some older yachtie who has rarely left the bay. It gets old fast. 
If you can't buy a small boat of your own to sail, the next best thing is to make friends with local sailors. Go to places where boaters congregate, and look for the people who are leaving the marina asap. They are the ones most likely to help you learn the experience you need. 
It's important to note that everyone develops their own way to sail. As long as they are safely making it back to the harbor every time and not endangering their boat or crew along the way – or anyone else on the water – then they are doing it right. People will always try to tell you that you need to sail this way or that way. I find the best way to avoid this type of conversation is to be out on the water all the time!
Once your coastal cruising skills are well polished, it's time to turn your attention toward the open sea – and your first offshore delivery. 
The Hitchhiker's Guide to the Oceans – How to Find a Boat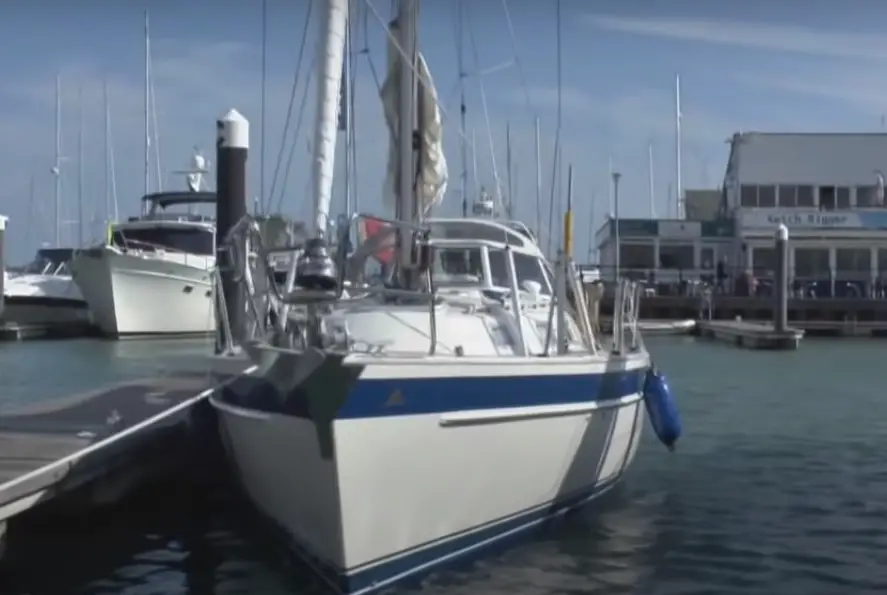 Delivery captains need crew that they can depend on no matter what happens at sea. Instead of trying to start by crewing on a round the world voyage, ask the captain if they want to take you on a short coastal delivery first to see how well you work together. This is also important for your safety because there is nothing worse than being stuck offshore with a modern day Captain Bligh. 
The hardest part of getting on a yacht delivery is getting your foot in the door with a good captain. After you have completed your first delivery, it will be clear to the captain whether he would want to sail with you again. As long as everything went well, then chances are he will reach out to you the next time he needs extra crew. Once you have completed a few offshore passages, your resume will be likely to catch the eye of other professional captains. 
Many inexperienced crew members ask me what kind of pay they can expect for their first delivery. If this is on your mind for your first trip, then chances are you are going to be disappointed. I sailed thousands of miles all over the world before I was ever paid to crew on a delivery, usually actually losing money because I had to cover the cost of flights and sometimes chip in towards expenses. Even as a professional captain, I still sometimes crew on other people's boats for free if it's a fun or interesting route. 
Once you have logged 5-10 long distance yacht deliveries, then it's reasonable to start to charge for your time. You will have a better chance of getting hired, of course, if you hold some kind of credentials, like a United States Coast Guard (USCG) Captain's license, or a Yachtmaster's ticket. Normal rates for professional crew are usually about $100 per day, up to $200 on expensive yachts. You are more likely to get paid a higher daily rate on shorter deliveries than long distance trips. 
Operating as a paid crew, you will have to compete with the thousands of people who offer to crew for fun. It helps significantly with finding work if you have a high demand skill onboard, such as being a professional mechanic or nurse. 
As with most boat delivery jobs, money is not a good reason to get into this line of work. The opportunities are often sporadic, and the gaps between work can be long. The best reason to crew on yacht deliveries is out of your love for boats and the sea. 
Even if your crewing position is unpaid, with some experience you should be able to find captains who will pay for your flights to and from the boat as well as all your onboard expenses. With food and lodging free, and nowhere to blow your money (no bars or clubs at sea on a small boat), crewing on deliveries is a great way to save money, even while you travel. I remember when I flew down to Mexico for a vacation and ended up getting invited as crew on a delivery up Baja. That delivery led to another, which led to another one after that. When I returned home a few months later, I had made almost $7,000 – and I had planned to go on vacation and spend money!
Aside from reaching out to captains, the best places to find a boat to crew on are in ports where ocean going vessels congregate. Here, you can find all kinds of boats seeking crew, including cruising families, charter yachts, luxury yachts, adventurers, and yes, yachts being delivered offshore. Sometimes all it takes to start your career crewing on yacht deliveries is to walk the docks and talk to skippers. Some of the best ports or cruising areas for finding positions on oceangoing vessels are listed below:
North America
Seattle
Victoria
Vancouver
San Francisco
Newport Beach/LA
San Diego
Miami
Newport
Halifax
Latin America and the Caribbean
US Virgin Islands/British Virgin Islands
Antigua
Balboa
Colon
Puerto Vallarta
La Paz
Grenada
St. Martin
Galapagos Islands
Cartagena
Rio de Janiero
Bermuda
Europe
Gibraltar
Azores Islands
Canary Islands
Greece
Turkey
Falmouth
Sable D'olonne
Barcelona
Africa
Port Said
Cape Town
Mauritius
Reunion
Durban
Tangiers
Dakar
Cape Verde
Oceania
Tahiti
Honolulu
Suva
Vavau
Auckland
Sydney
Darwin
Hobart
Cairns
Brisbane
Asia
Phuket
Bali
Singapore
Manila
Hong Kong
Galle
Dubai
Istanbul
Osaka
One Hand for Yourself, One for the Ship – How to Stay Safe
Ending up on the wrong boat can be hell. It can also be extremely dangerous. Once, I got a job as crew on an American boat that was based in the Philippines. My job was to help get it back to the USA by way of the North Pacific. There was a captain from the Netherlands, as well as another crew member from Poland and the owner also took his local Filipino girlfriend. 
Soon after joining the boat and meeting the owner I got a bad feeling about this trip. The boat looked ok, but it had been stuck in the port of Cebu for over three years. This is usually a bad sign. Although the owner was in his early eighties, he brought along his Filipino girlfriend who was just 26 years old. He employed a large team of local laborers who he regularly yelled at and treated little better than the skinny dogs and giant rats that ran around the yacht club yard..
By the time I had been on the boat for less than an hour, I knew that accepting this job was a huge mistake. The problem was, my life savings at that time came to a grand total of $40, and I had no return ticket back home. In those days, I would rather die than ask my family for help, so I decided to stick it out. After a few of the weeks in the hot and humid hell of Cebu, we departed for Palau, our first planned stop on the voyage to the USA. 
The entire first day, I was told to keep watch, hand steering from seven in the morning until well past eight at night. Then, I was finally allowed to go below to eat, and I was replaced by the owner and the captain at the wheel. Less than ten minutes after going below, I heard a loud crash and felt the boat shudder heavily, followed by angry shouting on deck in both Filipino and English. Thinking we had hit a reef, I checked the bilges for water. I noted that they were dry and ran up on deck. 
As it turned out, we had hit a small fishing vessel, knocking three men off the boat into the water, and sustaining serious damage to both boats. I saw pieces of plywood floating on the surface of the water, which were clearly part of the fishing boat and it seemed like they were taking on water.
The owner and captain were yelling at each other. After about a minute the captain ran to the helm, putting the boat in reverse and backing away from the scene. He then shifted forward and turned to port, leaving the foundering fishing vessel and the three men – who had by then climbed back aboard – to their own fate.
"What the **** are you doing?" I yelled. "Aren't you going to help them?"
But I was ignored. Instead of taking responsibility for their actions, assisting the stucken vessel and filing a report, the owner and his captain decided to flee the scene as fast as they could – toward open water. 
For three more days they continued to push toward Palau, fearing legal trouble if they were to return to the Philippines, but as more and more things onboard the vessel began to break down (and our fresh water supply was run dangerously low because the owner's girlfriend was taking 30 minute showers every day) they finally decided to return to Cebu.
The day we got back to port, I jumped ship. I was convinced that the boat was a deathtrap under this leadership, and after their illegal actions at sea I was no longer willing to remain aboard as crew. With $40 to my name, I turned my attention to finding a way home.
It took me five months of living on the streets in Southeast Asia to save up enough money for a return ticket back home. But I won't get into that here. The lesson learned was do your research and make sure you are getting on the right boat before flying across the world. Follow your gut when things don't seem right. And it's not a bad idea to have a backup supply of enough money to get yourself home from any port along the route. After all – you never know how things could turn out once you arrive. 
Female crew especially need to be careful when seeking work on yacht deliveries. Contrary to what I often hear from older generation captains, I find that female crew almost always make better crew than their male counterparts. They are often more focused on the job, less egotistical, cleaner and more likely to follow the rules onboard than many of the male crew who hold the same positions. I am often impressed by the strength and pain endurance by women sailors. 
But there are far more predators than you might think in the boating world. Every young female sailor I know has stories of being lured onboard boats by men offering employment, only to learn the captain's true intentions once at sea. The problem is that once the boat leaves the dock, there is nowhere to run, and no law enforcement to turn to. If you are a woman who is looking for a position crewing on yacht deliveries, make sure you know and trust the people you are sailing with – otherwise it's not worth the risk. 
Life at Sea – What is it Like on a Yacht Delivery?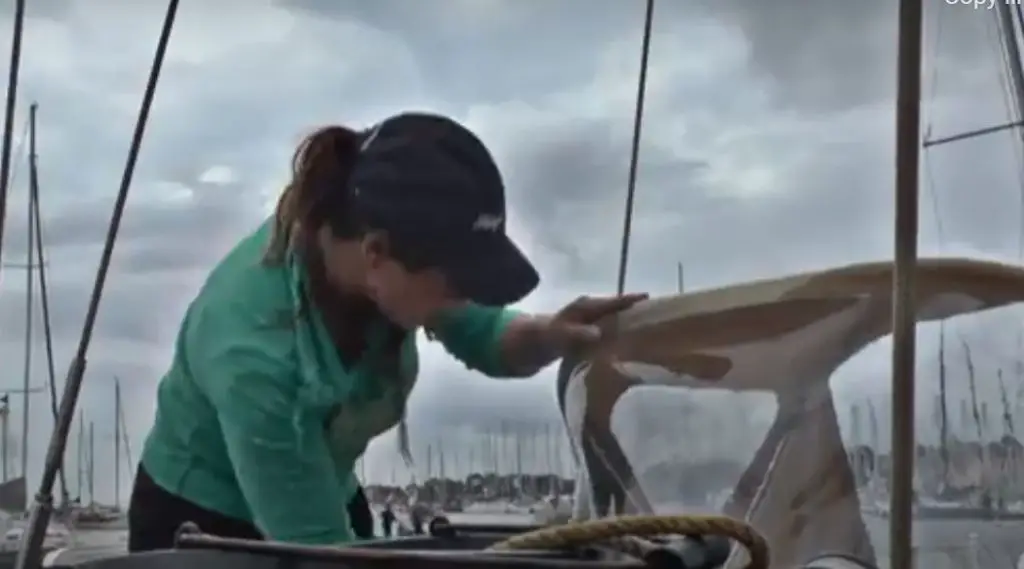 Once you have joined a vessel as crew and prepared for the passage, you may be a bit apprehensive about what to expect on your first offshore yacht delivery. What is life like at sea, you ask? 
While on delivery, I make sure that daily life for the crew is planned with two primary things in mind – keeping everyone onboard the boat safe and healthy, and getting the boat to her destination in even better condition than when we left port. 
As captain, I never really fully rest while on a delivery, because my mind is always on the job. When I am not physically maneuvering the vessel or managing the sails, I am thinking about the weather, planning entry to the next port, or trying to figure out what is wrong with the autopilot. I contemplate how to keep the crew from falling overboard during the next unexpected squall. Quite often, I am more relaxed on singlehanded passages, because I only have myself to worry about!
For the crew, however, all they have to worry about is keeping watch and hanging on when things get bumpy. That's why I sometimes crew on deliveries when I want a vacation from my job as captain! 
Each delivery is different, so it's difficult to lay out exactly what life looks like on any one voyage. Larger vessels require more crew to handle, and the duration of the voyage as well as other factors like weather play a large role in life at sea. 
For an average sized cruising vessel between 30 and 50 feet in length, I usually bring two crew in addition to myself. With three people keeping watch, I like to schedule four hours on, eight hours off – twice daily. If the weather gets rough or we end up steering by hand, I often reduce the watch to two hours, or even one hour in some circumstances. To mix up the schedule and ensure that no crew member gets stuck keeping watch at a time that they don't like, I change up the schedule every few days. I write the watch schedule on a piece of paper and tape it up in the galley. I also make a point to get the crew together and ask them if they have any issues with the plan – if so, then I adjust accordingly.
While on night watch, and whenever the sea conditions are rough, I require everyone onboard to clip themselves to the vessel with a safety harness. I also request that crew members wake me up before leaving the cockpit to reef or unreef the sails. 
Prior to departure, I explain all about the boat and her systems to each of the crew. I believe that under a good captain, even the least experienced crew will learn how to handle everything onboard the boat, including starting and stopping the engine, maneuvering the vessel, hoisting the sails, etc. If the captain falls overboard or gets sick, you want the crew to know how to handle the vessel and perform a rescue. 
I once crewed on a 100 foot charter vessel under a captain who's personal philosophy was to keep the crew for manual labor only. He even went so far as to have the engine starting key hidden away so that only he could handle the boat. Once, during a visit to Nuuk, Greenland, the anchor started to drag while the Captain and his wife were enjoying a late morning drinking session ashore. Within minutes, we were only a few metres away from rocks that would have made toothpicks out of the ship's hull in no time. 
I got the attention of Kyle, another crew member, and we searched the pilothouse frantically for the engine starting key – without any luck. Kyle called and called the captain on his cell and via the VHF radio, but the Captain never replied.
In the end, we had to get the assistance of the local Coast Guard to hold the ship off the rocks until, hours later, the captain returned to the ship, staggering around the deck like a drunken clown and reeking of beer and whiskey. The whole humiliating incident was even filmed by a local TV station and broadcast on a local news outlet. The worst part is that a paying client remained onboard through the entire ordeal – an elderly man who could easily have lost his life had the vessel been wrecked. 
This situation could easily have been avoided if the captain had taken the simple precaution of leaving the starting key onboard and teaching his crew how to start the engine. In this case ego got in the way of safety, and the mistake could have cost human lives. 
Some of my crew members love to cook, and others don't know how to prepare anything more than top ramen and coffee. On the other end of the spectrum, I have crewed on boats with a rigid schedule for three meals a day – served not a minute late – and tea time with crumpets at 4pm sharp. I go to sea to get away from people like that, so you won't find this kind of schedule on my voyages. 
Instead, I keep a large supply of snacks and easy to prepare meals. Freeze dried foods like Mountain House or Backpackers Pantry are perfect for offshore deliveries when you don't have the time or energy to prepare a fancy meal. Crew who want to cook for everybody are welcome to do so, and we also enjoy some fabulous feasts at sea – appreciated even more because they aren't served three times a day. 
Crew are free to eat whatever they want when they are hungry. Because physical activity is usually limited to handling the sails and hanging on, I usually eat just one large meal in the late afternoon or evening, along with lots of hot drinks throughout the day and I eat snacks whenever I feel the urge. I keep a large supply of coffee and tea, as well as various other drinks to entice everyone to stay hydrated. Especially on cold passages, I drink lots of hot beverages, and a good thermos is essential for long night watches offshore. 
I always buy lots of fresh foods before departure, and in the first days of the passage we often eat better than we do ashore. Most importantly, the end of every voyage is celebrated with a large meal at a restaurant at the delivery destination – best enjoyed after the first hot shower on land. 
While not on watch or assisting with normal boat work, crew are free to do as they please as long as they stay safe. We always bring a large collection of movies and books, and I recommend keeping a voyage journal. Crew pass the time playing games, fishing, looking out for birds, fish, whales, dolphins or other sea life, filming videos…the options are endless. 
Prior to departure, the crew is expected to assist with preparing the vessel for the voyage, and once in port everyone helps out with cleaning up ship. Crew members who jump off with their bags five minutes after arrival and run off without helping wrap up the end of the delivery are rarely invited again for future deliveries.
Yacht Deliveries – What Should I Pack?
First time crew members who are getting ready for a delivery often ask me what they need to bring with them to sail across the ocean. With this in mind, I have compiled a list of gear that I consider essential for crew. Keep in mind that each boat is different and in many cases you will need certain items that aren't listed. The list here is assuming that you are on a boat that is fully equipped and provisioned for the offshore passage. This list only covers personal items for crew, not things like safety gear that every boat needs before venturing into the open ocean.
Sleeping bag – warm enough for the regions you will be sailing through.
Personal snacks and drinks – if you have anything specific you like separate from the ship's provisions.
Foul weather gear
Boots
Underwear and socks – for cold weather voyaging bring long underwear and base layer style shirts. I keep all clean clothes in separate ziploc bags until used, and bring a bag for dirty clothes to go in. 
Hats, gloves
Shorts, pants, shirts
Sweaters, coats and middle layers
Swimsuit and towel
Phone, cameras, and chargers
Portable power bank – paired with a small folding solar panel, this can keep your electronics charged even if the ship's primary power fails.
Ear buds or portable speaker
Ear plugs and sleeping mask
Personal medicines
Inreach Satellite Messenger – this has changed the game for offshore sailing, allowing you to stay in touch far outside of cell service. Also a great for safety.
Water bottle
Thermos
Toiletries and feminine hygiene products (for women)
Headlamp and batteries
Tablet or laptop – optional, but great to have for watching movies and writing. 
Books and magazines – I bring a pile that I can give away at the end of the trip. 
Sun protection – sunscreen, hat, etc
Journal
Binoculars – if the boat doesn't have it's own pair.
EPIRB and MOB fobs
Seasickness medicine – if you get sick
Safety harness – again, if the boat doesn't have extras onboard
Is Crewing on a Yacht Delivery Right for You?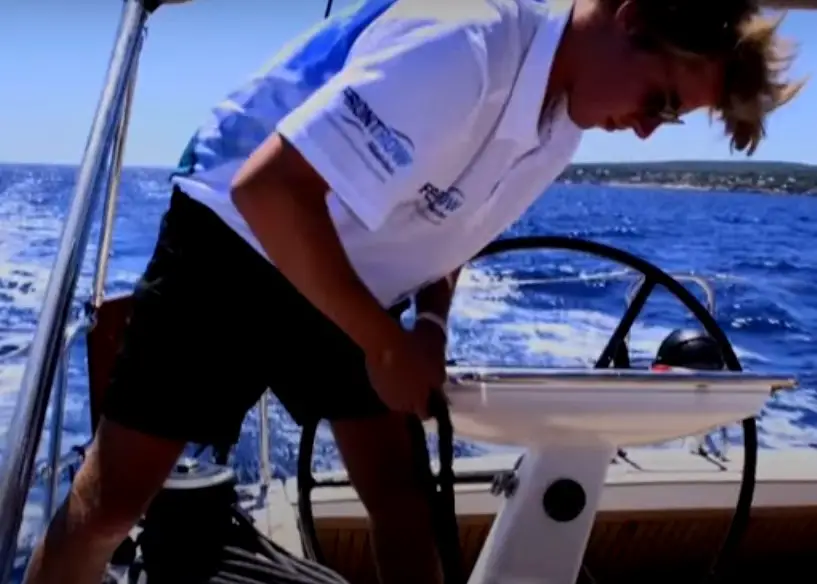 Crewing on yacht deliveries is an incredible way to see the world without having to own your own vessel. It's also an incredible way to gain the sea miles and experience that you need to pursue a career as a captain yourself. As a young boater, I crewed on yachts all over the world and I wouldn't trade my experiences for anything. 
Of course, the yacht delivery lifestyle poses many different challenges, and it definitely isn't for everyone. But for boaters who want to experience the beauty and freedom of the ocean without the expense of owning their own boat, crewing on yacht deliveries is one of the best ways to gain experience while traveling the world. 
For people who are curious about the lifestyle, I would recommend giving it a go – as long as you are willing to invest the time to become properly prepared. You will undoubtedly have incredible experiences that will stay with you for the rest of your life. 
After a few years of crewing on offshore passages, you should know how to handle a variety of vessels in all kinds of conditions. Some boaters will be ready to take the adventure to the next level and become a yacht delivery captain themselves. It's a huge challenge, but you already have the best possible training behind you – thousands of miles logged on the open ocean. 
If you are thinking about taking the next step to becoming a professional delivery captain, make sure to read our third article in the series, "How to Become a Yacht Delivery Captain – A Guide".
SailAndProp.com is the best place online to learn anything and everything about boating. If you enjoyed reading about how to crew on yacht deliveries, don't forget to sign up to our newsletter to get all the latest boating content sent right to your inbox. We will be publishing new articles on topics like yacht deliveries every week!