Each boater has their own idea about what constitutes the ideal liveaboard vessel so they can start living aboard a boat. For families who plan to cruise through the Caribbean or South Pacific, cruising catamarans like Lagoons or Fontaine Pajot are often a popular choice. Others who enjoy exploring high latitude areas like Southeast Alaska or the North Sea go for a heavy displacement trawler or an aluminum expedition style yacht. 
Regardless of what vessel you choose, there are a few fundamental features that all liveaboard boats must have in common. Every liveaboard boat must keep her crew safe and comfortable whatever the weather conditions are like in the areas you plan to cruise. She must have plenty of space to keep your belongings securely stowed down below. She must have accommodations that are suitable for all of the crew – secure bunks for each person and a galley and head where everyone onboard can stay clean and well fed. 
In this article, we will focus on the aspects that make a liveaboard boat a pleasant place to call home – the galley, the head, the bunks and the stowage space…We will cover other important aspects – such as seaworthiness, design and hull material – in another piece. Keep reading to learn all about key characteristics for the ideal liveaboard boat. 
The Heart of the Ship – The Galley
For most liveaboard boaters, the galley is the center of the boat. This is where you will prepare your meals, feed the crew, and stow much of the food that you need to cruise self-sustainably for months at a time. A well designed galley can make a vessel a pleasure to live aboard, while a poorly thought out setup can be downright dangerous in the wrong conditions. 
The first consideration when looking at the galley design is the type of cruising you plan to do. If you expect to live aboard at the marina, then it makes sense to have a galley that is open and spacious. An open style galley provides plenty of space for multiple people to cook together without constantly bumping into each other or having to do the "boat dance" to maintain personal space.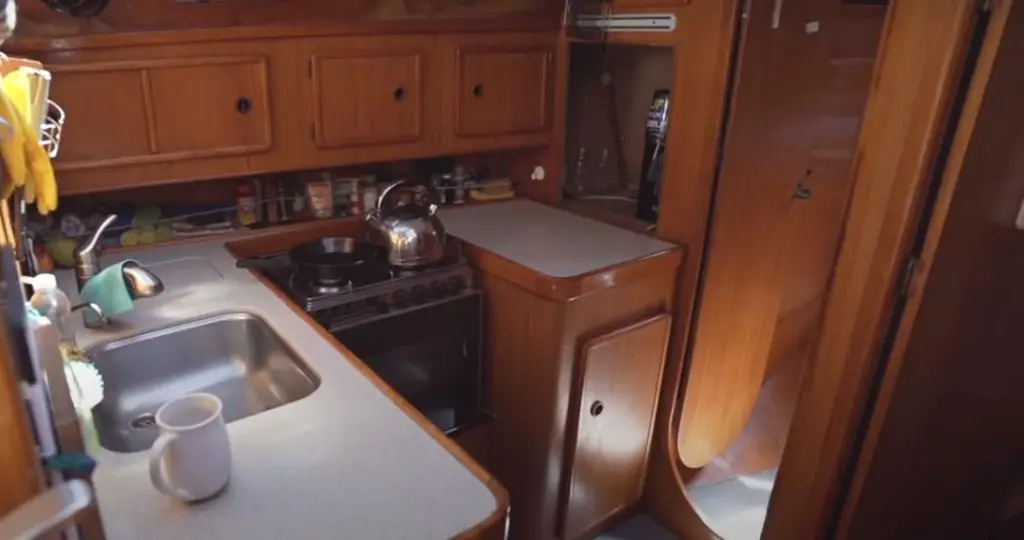 When You Want a Small Galley
On the other hand, if you plan to sail offshore then a spacious galley is the last thing that you will want. The open space that makes it a pleasure to mix cocktails and cook up extravagant feasts with friends at the dock becomes dangerous when you are trying to throw together a meal while the boat is heeling over 30 degrees and bashing to windward in 40 knots of wind. 
At sea you want a compact galley where one person can wedge themselves in and stay in place long enough to put together some nutrition to keep the crew going strong. It's often helpful to have a strap that holds the cook into place regardless of the motion of the vessel – and plenty of handholds. 
Never underestimate the motion of the ocean until you have personally experienced it at its worst. Life at sea can sometimes be similar to living inside a washing machine – complete with dirty water and unsecured items flying around in all directions!
If it's properly designed, even a compact galley meant for offshore use can have space to incorporate everything you need to live comfortably. I prefer a U shaped galley where you can stand in the middle and reach everything from one location – as well as remain securely wedged in one place regardless of the boat's motion.
The Kitchen Sink
My wife always reminds me about the importance of having two large sinks in the galley – especially when you have to wash dishes by hand (it's on the list for our next refit). After all, few mid-size cruising vessels are equipped with a dishwasher. 
Dual fresh and salt water pumps are a huge bonus for full time liveaboards – you can wash with salt water and then rinse with fresh, thus saving a lot of fresh water and extending your cruising range before having to fill back up at the dock or run the watermaker.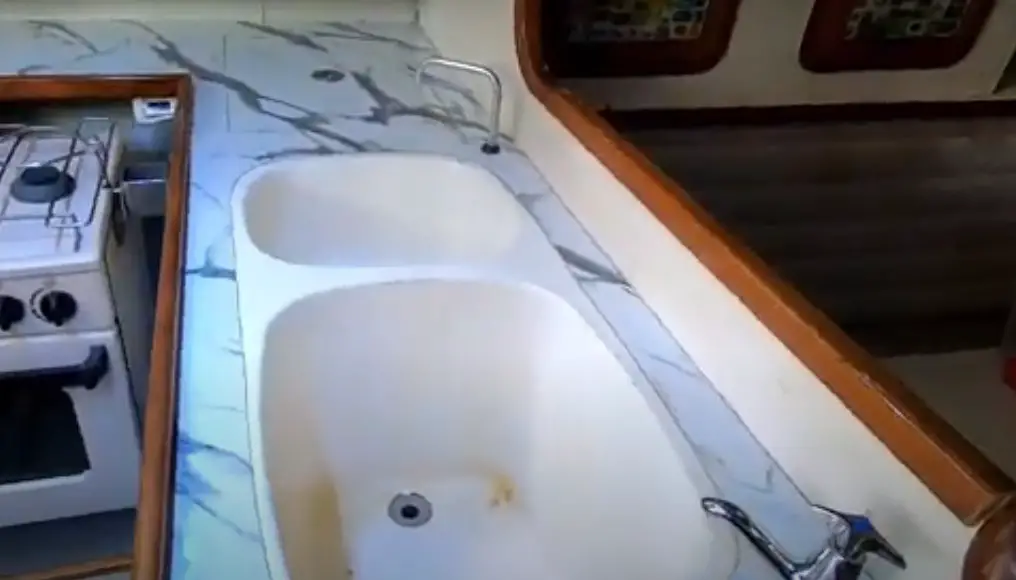 The Stove
 If you plan to sail offshore, it's also a good idea to have a gimballed stove. That way your dinner won't be thrown across the cabin when the waves pick up. Most boats have either a propane or alcohol cookstove. Each has their advantages and disadvantages – alcohol can be more messy and a pain to have to regularly refill. Propane is easy to use and lasts a long time, but it's highly explosive and can be quite dangerous if it's not properly handled. 
Most propane stoves have an oven beneath the stovetop, which is a great bonus. Microwaves use up too much electricity to be practical for use on most cruising boats once you are away from the marina, so I use my oven instead. Mine is much smaller than you find in most homes ashore, but I find I can still cook everything that I would on land, I just have to bake in smaller portions.
Living Aboard a Boat With No Oven
Many cruising vessels have no oven at all. To get around this deficiency, many liveaboards use a pressure cooker to bake bread or other items in place of an oven. This takes a little practice to get just right but can work very well once you are accustomed to using it. 
It's nice to have enough counter space to be able to cut food and prepare meals, but many recent designs tend to ignore this in favor of larger stoves and sinks. My boat uses the top of the ice boxes as extra counter space, which is more than enough for my needs. The two ice boxes are used for fresh food in port or as a "mini root cellar" while on longer voyages. I also have a small 12 volt refrigerator that I keep things like milk, cheese and meat in when the solar panels provide enough power.
Another important factor to consider is stowage space for food. If you plan to sail long distances, it's necessary to have plenty of space to stow food for at least a couple months – which can be quite difficult in a compact galley. Well designed yachts make use of every nook and cranny for stowage, including the space underneath the stove and behind the sinks. 
The Ship's Lavatory – The Ideal Head Setup
For liveaboard boaters, a functional bathroom (called a head by mariners) is just as important as a well designed galley. The head should have space for a marine toilet, a sink, and ideally a shower as well, not to mention space to stow items like toilet paper and shampoo for several months of cruising. 
When choosing the ideal boat for living aboard, consider the size and configuration of the head. Is there plenty of space for brushing your teeth or doing up your makeup? 
One feature that can make a huge difference when it comes to long term comfort is a separate space for the shower. Most mid-size cruising vessels have a shower that uses the same space as the toilet. This saves a lot of space, but means that everything in the head has to be waterproof, not to mention the fact that you have to do all your showering either standing over or sitting on top of the toilet. This can work fine, but it gets old fast when you have to do it every day. A separate shower space is much more comfortable to use and can double as stowage space during longer passages – as long as you don't mind moving sails or jerry cans out of the way when it's time to wash up.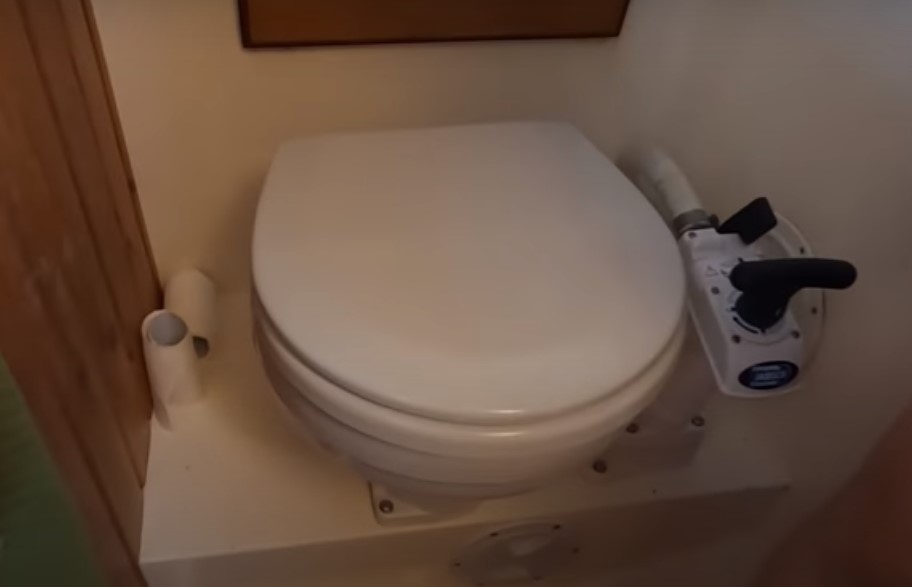 Living Aboard A Boat with Good Head Ventilation
Because the head is by nature going to get wet – especially if it has an integrated shower – ventilation is equally important here as anywhere else on the boat. Many contemporary designers incorporate stylish, roomy heads into their boats, but then fail to install something as simple as a dorade vent into the cabin top. Unfortunately, the moisture is likely to accumulate quickly and the head will quickly become smelly and could even develop a layer of mold. 
In order to avoid this distasteful situation, make sure the head has its own independent ventilation system. An opening porthole is a nice way to let in some fresh air, but it's not always going to be enough because it will often have to be closed while at sea to avoid water splashing in from the sea. Instead, a dorade vent is a better option – it will let in fresh air, but stop water from getting into the cabin. 
Sleeping Accommodations on the High Seas – The Berths
Another underrated yet important consideration for new liveaboards is the sleeping accommodations. Long distance cruisers require two different types of beds (called a berth on a boat) on their vessel – a small, yet secure berth for sleeping at sea, and a roomier, more spacious one for relaxing in port. 
Large vs Small Berths
The rationale for this is the same reason that it's better to have a small galley for sailing offshore. At sea, a large bed means a long way to roll when the boat moves, while a small, secure berth keeps you safe and secure no matter the conditions encountered. The smaller the berth the better, and it's often helpful to use pillows or extra blankets to fill any extra space and minimize movement. I have even sailen aboard boats that were equipped with seat belts to keep you secured to the bed while sleeping, and it's not a bad idea at all. 
While a seat belt may be a little bit overkill for most boaters, many blue water cruisers use a lee cloth instead to keep themselves in the bunk no matter how wild the motion of the boat gets. It can make it more difficult to climb in and out of bed, especially if you need to get up quickly to check on things on deck – but it's worth it for the added security. One fall from the bunk when the boat hits a wave can break your arm or back. 
Of course, a tight berth makes a lot of sense for catching the Z's on the open ocean, but once in port it's nice to have the space to stretch out and be able to share the bed with your significant other. That's why the ideal liveaboard boat has both sleeping options available – depending on where you happen to be at the time. 
V Berth
A V berth in the bow makes for a wonderful bed while anchored up in a nice cove or bay. There is plenty of space to stretch out fully, even for two adults, and the sides of the hull make for an excellent backrest while sitting up to read or watch a movie. On many vessels, you can open the forward hatch and let in a pleasant breeze to cool off or look up at the stars while still safely lying down below in the cabin. 
On the other hand, the forepeak is the worst place to be while the boat is moving through a nasty chop while underway. The motion in the bow is usually much worse than the rest of the boat, and it's easy to be thrown clear out of the berth or bang your head. At sea, the V berth is much better utilized as a stowage space for sails or extra gear, then cleared out again once in port for a spacious place to sleep.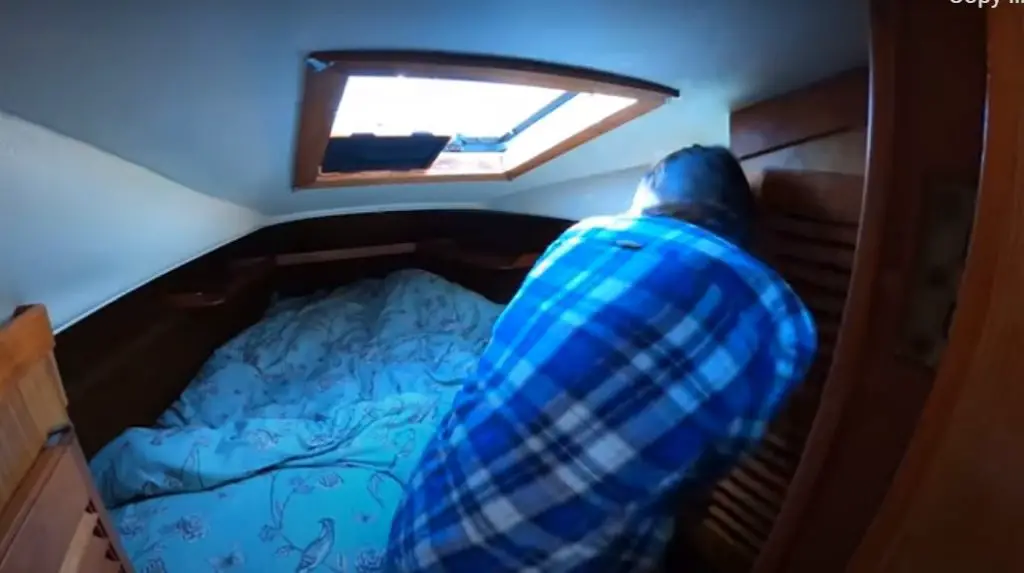 Go Small, Go Now – The Best Boat is the One You Have
Every boater has their own ideas about what constitutes their "perfect" vessel, but few of us have the time, resources, or money to design and build just the right boat. That's why the best boat is the one that you have now, or the one you can afford today. As many famous cruisers have said, it's better to "go small and go now" than to save for decades for the ultimate cruiser, only to have life get in the way of your dream cruise. 
My own experience provides a great example. I have dreamed for my entire life about sailing around the world with my family on a large cruising catamaran. Ideally, the right boat would have space for ten people to live aboard full time, and additional accommodations for three or four visitors to come and stay for a few weeks. Naturally, the boat would be equipped with twin electric drive engines, each powered by a large battery bank which would be charged by solar panels, wind generators, and hydro alternators while under sail. She would have refrigeration so that we could freeze large amounts of fresh food purchased or gathered along the way, and water would come from a high output watermaker so that we never needed to fill up at the dock. 
That's the dream, anyway. The reality is that I would need to save for decades to be able to afford building such a vessel. While I do hope to one day be able to sail my dream catamaran, in the meantime I have to aim a little smaller, in order to be able to get out on the water before I'm eligible for a pension. 
Living Aboard A Boat Of Your Own
So instead of waiting for the perfect boat, I ended up cruising aboard much smaller vessels, ranging from my 33 foot sloop, down to an 8 foot El Toro daysailer, with my larger boat cruising mostly limited to yacht deliveries. 
In reality, it turns out to be just as much fun to take the El Toro out for an afternoon sail as a big fancy yacht – sometimes even more fun, because with the small daysailer there is a lot less to worry about potentially going wrong. 
If you dream about living aboard and don't know where to begin, start with the boat that you can afford today. She might not be the huge luxury yacht that you dream about, but a small yet seaworthy vessel can get you out there cruising today – not someday in the future.  
Making the commitment to live onboard your own boat is one of the most important decisions you can make – and it requires a solid understanding of the liveaboard cruising life. Thankfully, SailAndProp.com is there to answer all your boating questions. SailAndProp.com provides our readers with a wealth of information about all things boating – from deep sea fishing tips to cruising guides for all your favorite destinations, and much more. We will be regularly publishing new boating content, so don't forget to subscribe to our newsletter to get all our latest articles sent directly to your inbox. 
To learn more about living aboard your own boat, make sure to read our next article in the series, "The Ideal Liveaboard Boat – A Guide: Part 2".