Hiring a delivery captain for a long distance offshore delivery can be a daunting task for even the most experienced boaters. For a first time boat owner, sometimes it's impossible to know where to start. Our guide "Yacht Deliveries – How to Prepare the Boat" makes it easier for you by laying out everything you need to take care of before the delivery begins in our easy to understand article series.
Part two takes off where we left off in the previous article. In this piece, we will cover safety gear and offshore essentials, provisioning for food and water, sails and rigging, surveys, insurance and vessel documentation. 
If you are thinking about hiring a delivery skipper to move your boat, or you just want to make sure your boat is ready to go to sea, this guide covers everything you need to know.
Just in Case – Safety Gear and Offshore Essentials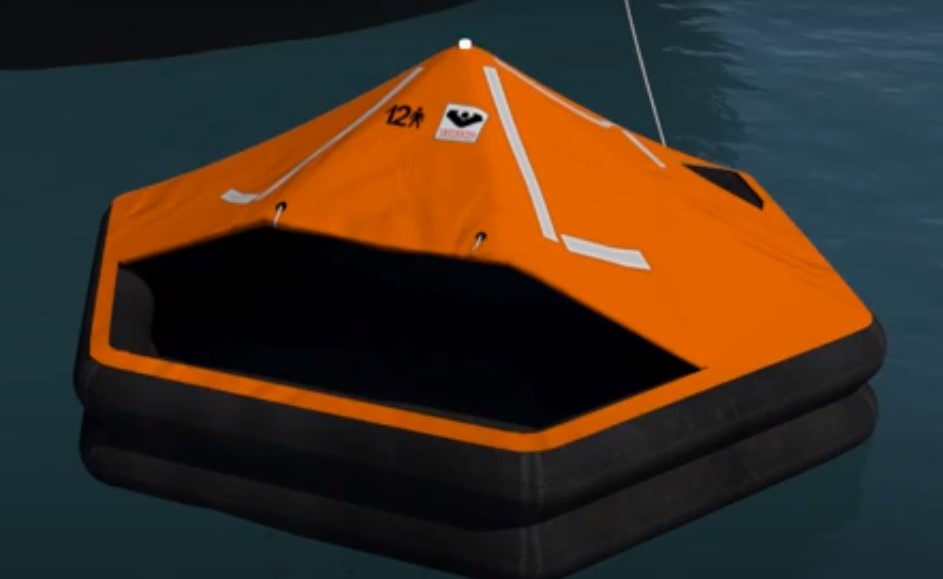 Every boater chooses to equip their vessel differently for a long distance offshore delivery. That said, there are a few items that no vessel heading for blue water should ever be without. In this section, I will list the safety gear and offshore essentials that I make sure to bring on every offshore delivery. 
First, every boat heading for the open ocean needs to have an offshore certified liferaft onboard. Every year there are sailors who choose to venture away from coastal waters without a proper liferaft, and a certain percentage of them never make it back. It seems that they never learned the lesson of the Titanic. 
It's important to make sure that the liferaft has enough capacity for the number of people who will be crewing on the delivery, and equally important that the raft is up to date on inspections and maintenance. Don't head out to sea with an expired liferaft – there is a good chance that it won't inflate when needed, or that the seams won't hold up to the ocean environment. 
Keep the raft stowed in a secure place that is also easily accessible in an emergency. Many sailors choose to keep the liferaft mounted on the foredeck, which is a poor choice. A liferaft kept here will be the first thing to be torn off in a severe gale, which is the kind of conditions in which you are most likely to need it. Also, who wants to crawl on the foredeck in a force twelve hurricane? Not a good idea!
A better place to keep the raft is near the companionway – either down below in a secure location or mounted in the cockpit. Here, the raft is less likely to be washed overboard, but is located right where the action would be during an at sea emergency. 
I always give my yacht delivery clients the opportunity to rent a liferaft from me if they decide not to purchase one themselves, but it's a good idea to have one aboard even for coastal sailing.
Within reach of the liferaft should be a dedicated ditch bag, containing food, water, flares, some kind of two way emergency communication device, spare clothing and medical supplies. Most importantly, make sure that the ditch bag has a 406 mhz EPIRB (emergency position indicating radio beacon) that is registered to the boat. In an emergency, the EPIRB will send a distress signal to the Coast Guard via satellite relay along with your coordinates. A good EPIRB will be able to continually broadcast a distress signal for three or four days, which should be enough time for help to come. 
It's a good idea to test the EPRIB (carefully keeping to the instructions to avoid sending off an accidental distress signal) to make sure it's working before you go. 
Some EPIRBs also have the ability to tell you your coordinates without broadcasting a distress signal, thus serving as a backup GPS. 
If you plan to sail through a region with cold water, bring a survival suit for every member of the crew. Even in a liferaft, crew can quickly succumb to hypothermia without an immersion suit, and it could easily make the difference between life and death. Crew members should try them on at the dock to make sure they fit and everyone knows how to put it on in case of disaster. 
Just a few weeks ago, I watched a 40 foot motorboat go up in flames and sink less than a mile from my house on the southern shore of the Strait of Juan de Fuca. The fire had started in the engine compartment and spread to the rest of the boat. Unable to put it out in time, the captain called for help, and fortunately all four crew members were safely evacuated by helicopter before it was too late. 
This story is all too common, in fact onboard fires make for one of the most often reported causes of life threatening disasters at sea. That's why it's so important to have up to date fire extinguishers and an evacuation plan. I recommend extra fire extinguishers mounted all through the cabin, and one in the cockpit as well. It could easily save your life. 
When I am sailing through a part of the ocean with a good chance of encountering foul weather, I like to bring along a drogue and sea anchor to deploy in a serious gale. The sea anchor is a kind of parachute that is set off the bow, just like a regular anchor, except for at sea. This keeps the bow into the wind and waves and prevents the most vulnerable parts of the ship from being exposed to breaking seas.
In certain situations, it makes more sense to keep sailing in storm conditions and use a drogue instead. The drogue is deployed from the stern rather than the bow, and keeps the boat from surfing down the side of a wave and turning broadside to the waves or pitchpoling (when the stern of the boat flips over the bow, usually resulting in serious damage or losing the mast). The drogue will allow you to keep sailing very slowly under a small storm sail and maintain control of the boat, even in very rough weather. I have always used drogues and sea anchors built by Fiorentino, and they have held up through many bad storms. 
Another item that is often forgotten on long distance deliveries is a dinghy to get to shore. Of course, for boaters setting off to cross an ocean, it may seem an unnecessary encumbrance to take along a dinghy, but there are many circumstances in which it could prove invaluable.
For example, if you need to anchor up somewhere to pick up a forgotten essential or make repairs while still along the coast. Another time I have used the onboard dinghy is when debris (often a fishing net or bed of bull kelp) fouls the prop. Finally, if you need a backup engine somewhere along the way, one of the best ways to go is to use a dinghy with outboard as substitute propulsion, tied fore and aft to the sides of the hull. 
In case you end up calling in to a remote island, chances are you will have minimal options for mooring to a dock. That's why it's important to have a solid anchoring setup onboard the boat, complete with an appropriate sized anchor, chain, and windlass. Make sure the boat end of the chain is secured to a u-bolt inside the anchor chain locker. I have seen far too many anchors lost because the owner simply forgot to secure the anchor chain to the boat. Of course, the anchor should also be tied to the boat or stowed down below while at sea. 
Finally, in case the boat ever ends up taking on water – a highly likely scenario if you plan to sail offshore – it's imperative to have at least two working bilge pumps. Ideally, one would be electric and the other manual. I always test them out before leaving port and then check them twice a week to make sure they continue to function and aren't clogged with debris. My third emergency bilge pump is a bucket, which I keep handy at all times. As they say, there is no bilge pump quite as effective as an adrenaline pumped sailor!
A Well Fed Crew and a Happy Ship – Provisioning for the Ocean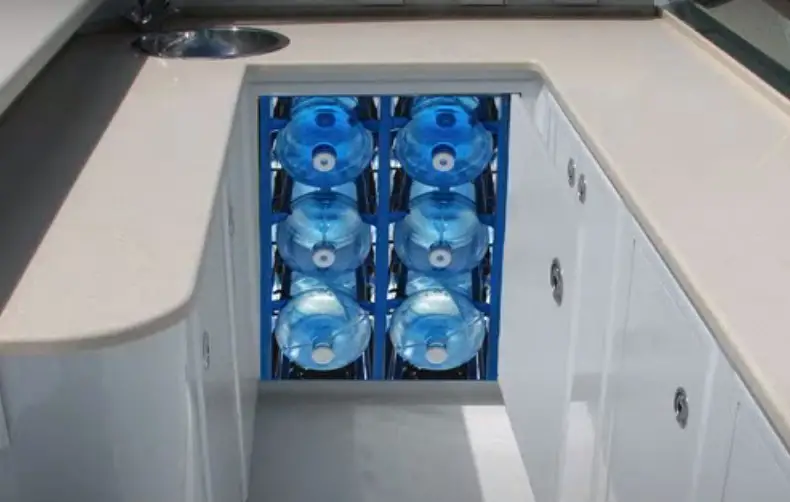 On the ocean, there is no commodity like fresh water. The old sailors proverb comes to mind, "water, water everywhere, but not a drop to drink". For centuries, sailors have stuck to the typical rations of ½ gallon per day per person, which is to be used for drinking, cooking, washing and brushing your teeth. For extra comfort, I always double that amount for my crew, allowing a full gallon per day of freshwater. 
Make sure that the fresh water is separated into at least two different supplies. That way if one is contaminated or lost there is still enough water to make it to port. I usually fill the onboard water tanks, and then also take along a large supply of drinking water in bottles or jerry jugs. 
I bring twice the amount of water I expect to need for the passage, and also carry a separate supply of 5-10 gallons only to be used in an emergency. Even on my 62 day solo passage across the Pacific, I have always had plenty of water left over when I got into port. 
Watermakers are a great luxury that allows for making lavish quantities of water at sea, but even when there is a watermaker onboard I make sure to keep the water tanks full. Any watermaker is prone to breakages, and they require a certain amount of freshwater just to get started. 
I always apply the same calculations to my provisioning and bring enough food to get to port even with a significant delay. If the boat is equipped with onboard refrigeration, I bring backup supplies of non-perishable foods in case issues arise with the refrigeration system enroute. I like to bring a large supply of freeze dried meals along with fresh foods for the first few weeks of the voyage. 
If the onboard cookstove uses propane or alcohol, bring plenty of extra fuel as well as some kind of backup cooking system. Even a small camping stove can save the day if it's the only working system onboard. On two occasions, I have used a barbecue mounted on the stern pulpit to boil water for coffee and cook meals when the primary cooking system wasn't functioning. 
Harnessing the Wind – The Rig and Sails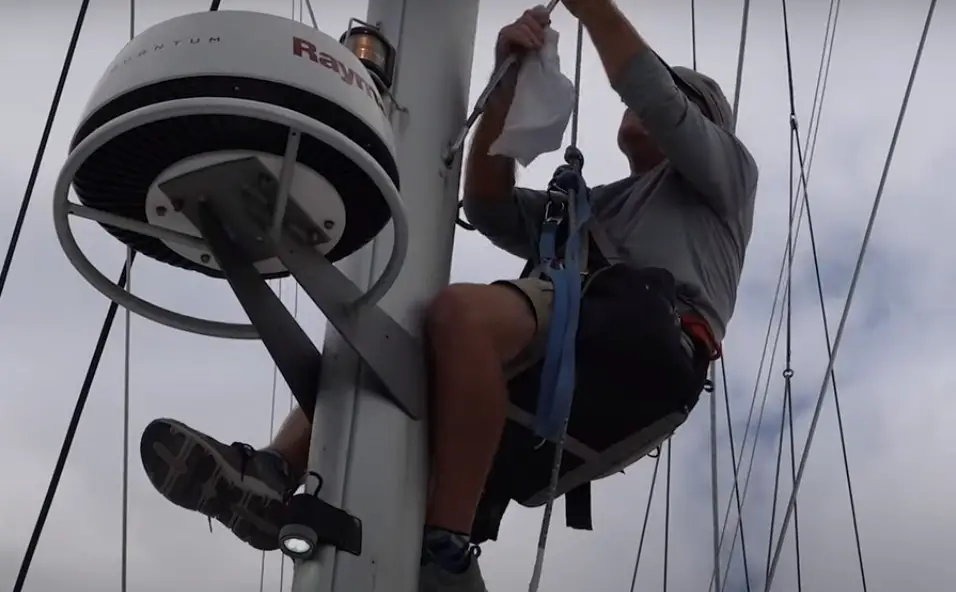 For sailing vessels, it's necessary to have the rig carefully inspected before any long trip. The best way to do this is to hire a professional rigger to inspect all the standing rigging and chainplates for signs of wear. On a sloop, one broken stay can cause a dismasting, which turns a regular delivery into a very serious situation. 
Once the standing rigging has passed inspection, it's time to turn your attention to the running rigging. Make sure that all the lines are in good condition, and that there are at least a few spare replacements if a line chafes through or breaks. You can expect serious wear on any delivery over 1,000 nautical miles in length. 
Next, hoist each sail and inspect them independently. Try out the reefing systems and make sure everything is working smoothly. It's always much easier to reef while at the dock than in a sudden squall. Practice raising and lowering the sails, and tying in reef points or using the furling system, if the vessel is equipped with roller reefing. Make sure the mainsail has at least three sets of reef points so that it can be safely used in strong winds. If the sail only has two sets of reef points, I would recommend hiring a sailmaker to sew in a third reef, or make sure the vessel is equipped with a storm jib and trysail for when the wind tops 30 knots. 
The Ship's Papers – Documents, Insurance and Towing
The final item on my checklist before departing on a long delivery is to make sure all the documentation is up to date. Check to be sure that there are copies of everything you may need on the route. If you will be traveling internationally, check to see what you will need for cruising permits and clearance for each country the boat will visit. Write a "permission to captain" letter for the delivery skipper, and give the captain a scan of the vessel owner's passport to show officials. If there was a recent survey of the vessel, print out a copy to keep in the ship's notebook. 
Don't forget to check with your insurance company to make sure the vessel is insured for all the areas that the boat will be sailing through. You may be required to pay extra to extend the coverage area if it's a long distance voyage. 
If your insurance doesn't cover towing, I always recommend paying for a service like BoatUS (or the local equivalent, if sailing outside the USA). The service is usually very cheap, and can save you thousands of dollars in case of engine failure or a fouled prop. As they say, an ounce of prevention is worth a pound of cure!
Departure At Last – Casting Off With Confidence!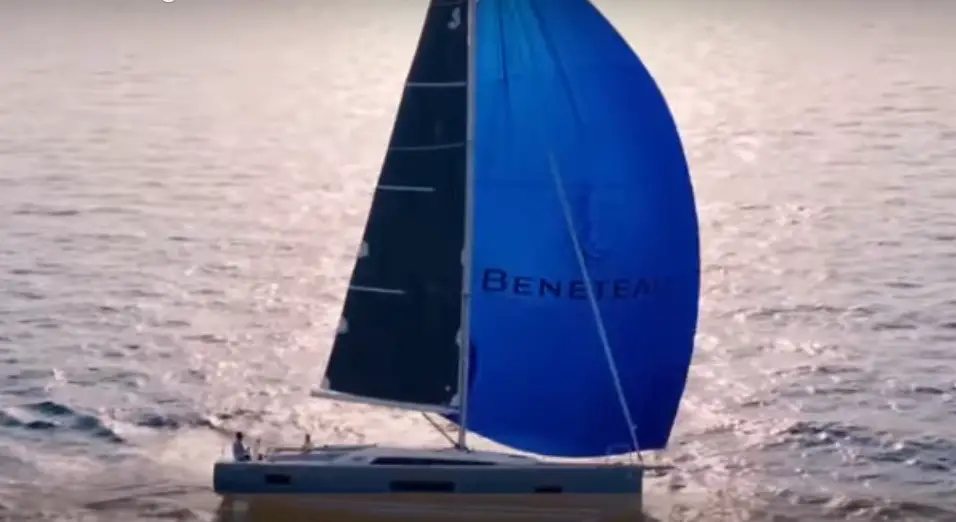 Preparing for a yacht delivery can be a huge undertaking, but with careful planning and preparation you can make sure the experience will go as planned. By picking a qualified captain and ensuring that your boat is ready for anything the ocean can throw at her, you can hand the boat over to the delivery captain with confidence that she will arrive safely at her destination. 
In the end, all the time and money spent preparing for a successful voyage will be well worth it. After all, there is no feeling better than stepping off the plane in an exotic port on the far side of the world and setting off on a cruise aboard your own boat!
SailAndProp.com has all the info you need to plan your next boating adventure. We will be publishing new articles on topics like boat deliveries every week, so make sure to subscribe to our newsletter so you don't miss out on any of the latest news and content!
For other comprehensive details about yacht deliveries, make sure to read our complete guide "The Ultimate Guide to Yacht Deliveries".