I learned to fish when I was very young, initially off the end of a local pier with a simple rod my father purchased at a sporting goods store. I was hooked the moment I caught my first fish.
However, fishing in inland waters is nothing like offshore fishing. Soon after finding my new passion, I started going on charter fishing trips with friends and family. Even 30 minutes from shore meant that the bass and bluefish got a whole lot bigger. Better yet, you can start catching game fish like tuna, swordfish, and even shark. 
Recently, I went with some friends on their boat during a shark tournament and immediately knew that I had to get a ship of my own. The freedom to plot your own course, and find your own exclusive fishing spots was exhilarating. However, I was apprehensive at first. 
One of my friends bought a pleasure boat, thinking he could fish from anything, and ended up making a mess of the interior. Someone else I knew purchased an older boat that is continuously getting work done. 
I didn't want to make a poor decision, so I started researching how to buy a boat for saltwater fishing. I learned a thing or two, built a budget, and purchased the perfect boat for me just last year.
I believe that the perfect fishing boat is out there for anyone. Here's everything I've learned on my journey to buy a boat for saltwater fishing, so you can save the hours researching and get your line in the water as fast as possible.
Style, Walkaround, Sportyacht, Center or Dual Console?
Fishing boats come in a few main styles, including walkaround, center console, dual console, and sport yachts. These are popular for different reasons. In this article, we're going to focus more on walkaround boats rather than center consoles because they are more comfortable for your average boater and are a better choice for long, saltwater fishing adventures. 
Walkaround Fishing Boats
Pros:
Closed cockpit protects from the elements
Walkaround design provides access to forward fishing locations/storage
Ample below deck living space
Maximized cockpit size allows for plenty of instrumentation
Cons:
Limited on-deck space for entertaining
Harder to clean due to many surfaces
Walkaround fishing boats are often the most comfortable fishing boats because they feature a mostly-enclosed cockpit area with specific walkways that allow you access to all parts of the vessel. These boats are not always symmetrical, as is the case with the Boston Whaler 380 Realm, which has one walkway on the port (left) side to maximize living space on the starboard (right) side. 
Most fishermen prefer walkarounds for long fishing voyages because they provide a safe place to operate the boat in bad weather. Because the cockpit is either fully or partially enclosed, it's possible to stay dry if the weather turns for the worst. The cockpit also serves as a refuge for those looking to get out of the sun on hot days. 
Walkaround boats have the added benefit of a larger helm (steering and control area) than those offered by a center console, meaning you can pack a lot more technology and comforts in the cockpit. A center console's cockpit is limited because it needs to fit in the center of the boat. Because the cockpit of a walkaround boat can take up most of the boat's beam (or width), you can benefit from additional screens for dedicated radar, fishfinders, GPS, engine information, and more. The cockpit will also have more seating and climate control options, making your fishing voyage much more comfortable. 
A final benefit to walkaround fishing boats is that because they have an enclosed cockpit, access to the interior cabin is protected. The cockpit can almost act like a foyer or mudroom in a house, providing a buffer between the elements or top-deck action. If you're in high seas, looking for respite in your cabin, you don't have to worry about rain coming into the living area and soaking your carpet. Suppose you're hosting a rowdy fishing outing with your friends. In that case, the cockpit's space can insulate your cabin from the outdoors, giving you a quiet getaway amid all the action. 
The Scout LF530X has a ton of great features for a walkabout fishing boat. The cockpit has plenty of glass and a retractable roof that gives you all the openness and visibility of a center console, with the ability to seek shelter in the case of poor weather. 
Center Consoles Boats For Fishing
Pros:
Streamline layout for speed while driving
Minimalist layout maximizing fishing and entertaining space
Easy to clean, plenty of access to floors, controls, storage
Cons:
Small cockpit limiting the number of instruments/screens
Minimal protection from the elements
Limited seating, places for guests to be comfortable
Center consoles are gaining popularity in the sport and bluewater fishing world, but they've not yet mastered the luxury of walkaround fishing boats. These boats are generally built with speed as a priority, sacrificing some of the creature comforts you'd expect in a fishing boat.
Center consoles tend to have a narrower beam than walkaround boats. While that narrowness helps them limit drag when cutting through the water, it also limits living space on board. Often, center consoles will have limited storage space for luggage and small galleys, making them unideal for long trips at sea.
As mentioned above, center consoles usually have much smaller cockpits than walkaround boats. The roof of a center console's cockpit is generally called a t-top due to its shape. As one would expect, that t-top provides limited shade when fishing, exposing everyone onboard to the elements. 
The most significant advantage of the center console is the weight to length ratio. Because they're very open, they tend to be much lighter than walkaround boats of similar size. That means they go a lot faster than walkaround boats with equal power. It's not unusual to see a center console with four, five, or even six outboard engines on the back, meaning it can easily cruise at over 80 miles an hour. 
That speed makes center consoles very popular for day boaters and those participating in shark tournaments. The pace allows a captain to get into deep water in no time, maximize their time fishing, and come in just before dusk. 
Speed boat manufacturers know this about the center console buying crowd. As a result, manufacturers like MTI, Cigarette, NorTech, and Midnight Express have perfected the center console, speed boat hybrid, putting a ton of power in a minimalistic package. While I love these boats, I'm looking for something that'll fit long-term fishing trips. 
Keep an eye on our site, because we know many people are interested in the luxury options provided by center console boatbuilders. I'll be writing a guide to center console fishing boats soon.
Dual Console Boats. Fishing?

Pros:
Has the benefits of a center console and a walkaround fishing boat
Comfortable seating area forward
Spacious seating area aft
Closed off cockpit for protection from the elements
Cons: 
Limited fishing area to only the stern of the boat
Small cockpit due to the need for a walkway
Inside living area sacrificed due to forward seating area
The least popular cockpit-style, but still gaining in popularity, is the dual console fishing boat. This boat style takes design cues from popular bowriders and features a walkway through the cockpit to a front seating arrangement. It pairs the enclosed cockpit of a walkaround, with the ample seating of a center console, attempting to give the owner the best of both worlds. 
In trying to be a center console and walkaround boat, I find that a dual console doesn't do either particularly well. Generally, you end up having a luxurious front seating arrangement, with a bare, aft fishing area, which gives it a two-tone appearance, without a cohesive design offering. 
An example of a dual-console fishing boat is the Pursuit DC365. This boat sacrifices a living space for a forward seating area, making it a day boat rather than something you could stay aboard for an extended voyage. 
The Sport Yacht
Pros:
Ample interior living space
Luxury while at sea
Elevated Cockpit
Purpose-built for sportfishing
Cons:
Large boats often more than 60 feet long
Cockpit off the deck
Fishing access restricted to the stern
Sport yachts are seen as the quintessential fishing boat today. These large, streamline behemoths can be seen slowly sliding through the marina early in the morning, heading out to sea, before firing up their engines for a day of fishing. 
Hatteras and Viking are two manufacturers well known for producing sport yachts. These boats feature luxury finishes, from polished wood decks to incredibly comfortable living spaces. Most sport yachts maximize interior living space by having a flybridge, or elevated cockpit, that can be open or enclosed based on the owner's preferences. 
Because of the emphasis on livable interior space, sport yachts only allow fishing from the stern, limiting some anglers. However, even though there are limited fishing spots onboard, owners of sport yachts benefit from every accessory imaginable, including outriggers, winches, rod holders, and more. 
As stated above, I'm looking for a fishing boat that could accommodate long offshore fishing voyages for me and my family. In my search, I found only a walkaround can fulfill the need to have enough living space; with the technology and accessories I need to make the most of my fishing trip. 
Where to put the Bridge? Flybridge vs. Cockpit
When shopping for a walkaround fishing boat, the most significant decisions are where the bridge will be. Many boat builders offer two helm layouts, a standard format where the boat's cockpit is in the center or starboard side of the ship, or a flybridge. 
Standard Cockpit
Pros: 
Easy access as it's on deck
Can operate alone
Protected from the elements
Cons: 
Takes up living space that could be on-deck
Limited visibility for obstructions immediately in front of the boat
Having the helm located in a standard cockpit configuration is how most people would recognize a fishing boat. This layout keeps the captain close to the action, where they can fish and steer the vessel without another crew member or attendant. 
A significant benefit to a standard cockpit is that the captain doesn't need to climb a set of stairs or a ladder to reach the boat's controls. A flybridge can be inaccessible for people with mobility issues, and a standard cockpit keeps boating accessible. 
A standard cockpit located on the ship's deck helps the captain easily access everything on the boat. If the captain needs emergency access to the anchor, engines, or even the galley, they can reach it easily without needing to be too far from the controls. 
There are few cons to having the helm on the deck of the ship. It takes up space in the cockpit, which could be interior living space. Secondly, by having the cockpit on the deck, the captain has a limited view of their surroundings. In long boats, it can be challenging for a boater to see the very front of their ship, and the location on the helm can cause a blind spot directly in front of the boat. 
Flybridge 
Pros:
Better visibility for obstructions in and around the boat
Frees up on-deck living space and storage
Cons:
Need a crew to operate the boat
Harder to access
Not fully sealed from the elements
A flybridge is a relocation of a fishing boat's helm from the deck to a platform that is either on the traditional cockpit roof or even higher. 
The Flybridge serves to answer the cons of the traditional helm location on most fishing boats. By elevating the captain, they can easily see obstacles or obstructions immediately in front of the vessel, helping in docking and steering the ship. 
Flybridges are usually open-air helms, exposing the captain to some of the elements. They typically have plastic sheeting for sides that can be secured out of the way for open ventilation or unfurled and secured to protect the captain from the elements. 
Boats with a flybridge also benefit from expanded interior space. Instead of having a cockpit on the ship's deck, boatbuilders can relocate the galley or salon to the topside, keeping lower deck space reserved for sleeping, storage, and living quarters. 
However, there are some obvious downsides to having the ship controls in an elevated location. As mentioned above, for captains with limited mobility, it can be challenging to walk up a ladder to access the helm. Boaters with a flybridge must have someone else on deck capable of problem-solving and acting independently because the captain is removed from the on-deck action. 
When choosing my fishing boat, I found I prefer a helm located on the deck of a boat for practicality and appearance reasons. I find that sometimes, the appearance of a flybridge makes a boat look top-heavy, which outweighs its benefits. Another thing that I had to consider is that I live in an area with a few low bridges, that I wouldn't be able to pass under with a flybridge on my boat. 
Inboard vs. Outboard Engines
There are only two engine configurations in powerboating that new boat owners have to choose from; inboard and outboard motors. Inboard engines are housed in an engine room on the vessel's stern, while outboard engines are mounted to the boat's transom. 
These engine options have their own set of pros and cons, which I'll go over along with my preference. 
Inboard Engines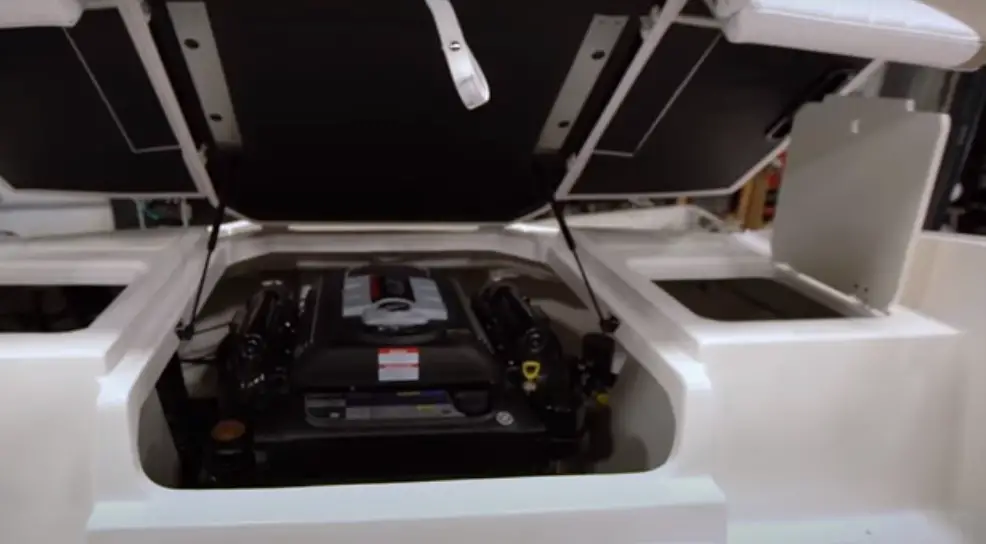 Pros: 
Frees up space on the transom for a swim platform
Access from inside the boat for engine maintenance
Historically, allowed for larger engines
Cons:
Takes up space inside the boat
Amount of engines limited by the size of the boat
Many potential failure points
Inboard engines are some of the most popular motor styles in powerboats and have been around the longest. Their popularity comes from the fact that, historically, boatbuilding materials limited how much weight could be put on the boat's transom (back). 
This history means that boatbuilders have had time to more or less perfected the inboard engine.  
The engines can be found inside an engine room, a below-deck room dedicated to a boat's power plants or a space on the deck underneath a hatch. There are a few connection points from the engine room to the boat's exterior. 
These connection points include the drive train, exhaust blower, and a coolant line that brings cold ocean water into the engine. 
Boatbuilders seal these connection points with rubber gaskets that can crack and rot with age. Boat owners with inboard engines should be sure to inspect and replace these gaskets at regular intervals to ensure that the boat is watertight.
Inboard engines have one fundamental limitation: the boat's width limits how many motors can fit inside the vessel. This generally means that ships with inboard engines only have one or two motors responsible for their propulsion. These motors have limited trim options, and instead, trim is done primarily through actuating tabs.
Outboard Engines
Pros:
Maximize interior space in the boat
Independently maneuverable
Can have multiple engines onboard
Engines better for performance
Cons:
Harder to work on, especially underway
Impossible to have a swim platform
These days, outboard engines are the most popular boat propulsion method as they allow for more customization. It's not unusual to see a boat with anywhere between two to five or even six outboard motors on the back, giving a captain a ton of power at their disposal. 
Because outboard engines are outside the boat, they don't need an electric blower to ensure that they exhaust correctly. Instead, they're naturally aspirated, which can help with performance. 
These engines have a much greater range of performance with a broader power band than inboard engines. 
The most significant benefit of outboard engines is their versatility. Boaters can control these engines with a joystick, pointing them in any direction to have precision maneuverability. Each motor can move independently of its neighbor, giving the captain precise throttle and management. 
One notable negative for outboard engines is that, simply, more engines sometimes means more headaches. While it's unlikely that more than one motor will fail simultaneously, marine engines are usually expensive to fix. Having to maintain more than one motor can quickly become costly. 
I've always owned boats with inboard engines. However, as outboard motors gain more refinement and popularity, I've always wanted to try them out for myself. Now that I'm buying my dream boat, I decided to pick one with outboard engines because I wanted to take advantage of the maneuverability and flexibility they provide. 
Accessories
When buying a fishing boat, countless accessories can be added to the ship to fit the owner's preferences. For this reason, two fishing boats will rarely look alike. Here is a short list of some of the most common accessories on modern-day fishing boats.
Rod Holders: Rod holders are one of the essential fishing boat accessories. These come in two different styles, "cup holder" and "rack" styles. Generally, a boat will have both for various uses onboard. Rack-style rod holders are great for keeping fishing rods out of the way when traveling. These will make sure they're safely secured, so they're not damaged. Cup-holder rod holders are great for holding the fishing rod while anchored or adrift and waiting for a bite. It allows the angler to keep an eye on his rod while keeping their hands free. 
Livewells: Livewells are a type of cooler meant to hold saltwater to keep bait or fish alive while fishing. They often have a filter system to keep the water clean so that the fish inside can stay alive for a short period. Livewells typically have a clear top (unlike a cooler) so that an angler can look into the well and evaluate how many fish are inside. For those who bring young children onboard, livewells can also provide endless entertainment.
Outriggers: Outriggers are long poles on either side of a boat used for fishing. These poles hold lines far out on either side of the vessel and increase the chances of catching a fish because they increase the number of lines a boat can have in the water without getting tangled. Many anglers will use outriggers for trolling to attract more fish to the boat. 
Trolling motor: Some boats will have a smaller, additional engine for slowly moving the boat while trolling for certain types of fish. Anglers may choose to use one or two outboard motors instead of a trolling motor, so they don't have to buy an additional engine. 
Filet table: For processing fish as soon as possible, it's good to have a cutting surface on deck. Cup Holder-mounted filet tables are an excellent option for anglers who want to process their catch while at sea. Some fishing boats have outdoor galleys, which include a food preparation station and grill. Those outdoor galleys will have an integrated filet table, so that you can rinse off the remains of the fish without making a mess of your boat's interior living space.
Coolers: Coolers are necessary to keep food and drinks cold and preserve a day's catch. Fishing boats will often come with coolers provided by a partner, like Yeti or Coleman, but they might also have onboard coolers in the deck that provide more extensive storage space. These large coolers can help an angler specifically on the hunt for big game fish, like shark, swordfish or tuna.
Winch: Sometimes, big game fish are much too big for an angler to bring on board. With tuna and swordfish easily getting over 500 pounds, having a winch can help you retrieve your catch with less strain and stress. 
Define Your Boat Budget
If years of owning boats have taught me anything, it's that boats are expensive. Now, this revelation might not be earth shattering; it is, nonetheless, a harsh lesson to learn. 
Affording a boat isn't merely the price tag on the vessel. There are several other expenses to consider:
Fuel Costs: Even a small boat can be expensive to fuel. Most vessels require a higher octane fuel than 87 regular. To amplify these costs, most marine gas stations charge a premium for the convenience of fueling on the water, which can make filling up at the pump even more costly. 
Insurance: Every state doesn't require boat insurance, but it's generally a good idea to have it. Boat insurance will cover most emergencies that could happen to a boat, including collisions, fires on board, unintentional grounding, and even trouble with storage or winterization. For expensive boats, insurance is essential to protecting your investment. 
Marina Costs: Owners of boats longer than 24 feet and wider than 8 feet must keep them at a marina as they exceed the limits most roadways have for trailers. Most marinas charge rent by the foot, so the longer the boat, the more expensive the monthly rent will be. Some marinas can charge upwards of a hundred dollars per foot, per month. 
Maintenance Costs: There seems to be a never-ending stream of maintenance costs that come with bot ownership. Whether it's for expendable pieces of equipment like sacrificial anodes (sometimes called zincs) or regular oil changes, these recurring services can be exceedingly expensive. Beyond routine maintenance, there are also seasonal charges, such as yearly winterization and storage fees, that also contribute to the cost of boat ownership.
Unforeseen Repair Costs: If you're considering a used boat, repair costs will be necessary as parts start to wear out or become damaged. These costs can be as simple as replacing gaskets that have cracked or rotted to engine repairs. 
SeaTow/Tow Boat USA Subscription: When something goes wrong on the water, you don't want to be caught alone. Companies like SeaTow or Tow Boat USA serve as the AAA of the high seas, assisting boaters in trouble. A SeaTow subscription isn't expensive, but it's essential to renew every boating season. 
Depending on the size of your boat, it's not unreasonable to consider paying twice or three times as much in monthly fuel costs and marina rent. 
I once went on a fishing trip with a friend who couldn't quite swing the fuel costs for the offshore fishing trip we had planned. He sheepishly asked if we could all pitch in to pay for fuel, which we did without a second thought so we could enjoy our offshore fishing excursion. Unfortunately, my friend wasn't able to enjoy his time with us because he had been so embarrassed about coming up short at the pump. 
Making sure to build a budget big enough to ensure that you never come short means that you can enjoy your boat to its fullest. When it comes to time on the water, it's much better to count memories instead of dollars. 
Leading Boat Manufacturers
Most people can probably identify a few of the significant fishing boat manufacturers. Of course, Boston Whaler came to fame over 60 years ago, when owner Richard Fisher publicly sawed a boat in half while sitting onboard.
Longevity is a great way to judge a boat manufacturer, as it shows how consistent and reliable their product is. Another way to judge a boat builder is how many used boats are on the used market. Do their ships last well into their second or third decade? Can they withstand different owners and still come through looking as good as the day they came from the factory?
Finally, quality boat builders partner with a quality engine and service providers. All of the manufacturers on the following list use either Mercury or Yamaha marine engines. These engines are bulletproof, well-tested engines that are known for their reliability and performance. On its own, a 300 horsepower Mercury Verado marine engine costs well over $27,000. The Boston Whaler 405 Conquest has four of them onboard, showing just how committed the brand is to performance and reliability.
Most boaters learn who the best manufacturers are by going to boat shows or word of mouth. I'll share the secrets of how an experienced boater evaluates manufacturers, so you know how to look at boats when you go shopping on your own. 
As mentioned in the paragraphs above, Boston Whaler is the most well-known fishing boat company in the United States. They are known for their longevity and unsinkability. They also gain respect based on the partners they use. 
Boaters deem Boston Whalers "unsinkable" because their hulls are made from a fiberglass-styrofoam sandwich, which they developed early on for safety. Even if the hull has a hole in it (or is cut in half), the hull's styrofoam promotes rigidity and buoyancy, helping the vessel stay afloat.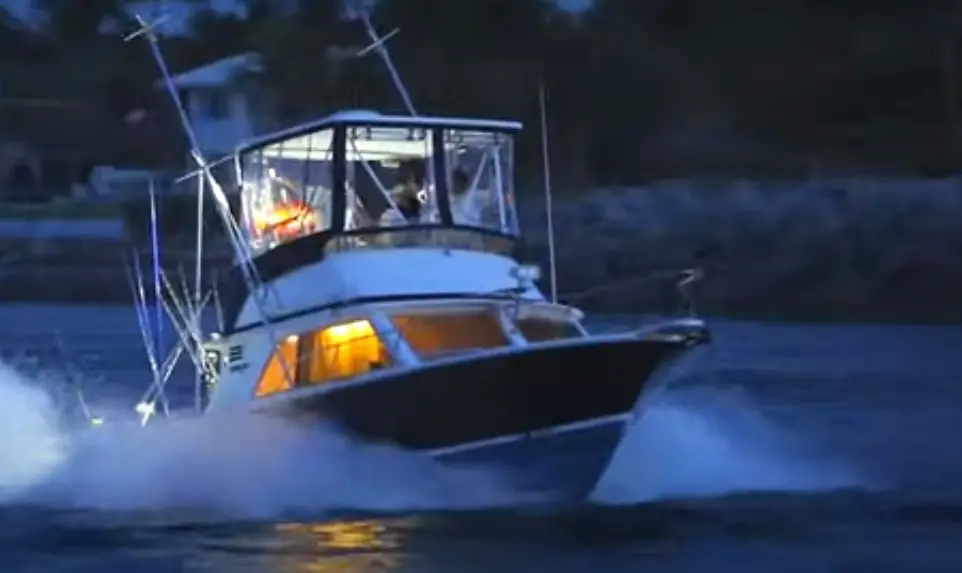 Since its founding in 1989, Jupiter has been a leading name in fishing boats. Known primarily for their center consoles, Jupiter is known for long hulls that are stable, fast, and streamlined, perfect for getting to the prized fishing spot fast. 
Jupiter partners with Yamaha for their engines to get the best performance on the market. The Jupiter 41SB crams four Yamaha F425 offshore motors on the back, giving a combined 1700 horsepower. One of these engines alone can cost $45,000, which is a hefty price tag for power. 
These engines are easy to work on, which is excellent for Jupiter owners, who prioritize getting out on the water above all else. 
Scout prides itself on refinement and luxury at just a year older than Jupiter fishing boats, combining a smooth and comfortable ride with an aggressive ship. These fishing boats are immediately identifiable from their swooping gunwales (sides.) 
Scout gives boat owners an engine option and offers both Yamaha 425's and Mercury Verado 400's as engine options. The Scout 530LXF is the largest and most luxurious walkaround fishing boat they offer, with four motors off the transom to ensure that you can get wherever you're going fast and in style. 
Dating back to 1977, Pursuit gets its reputation for reliability and simplicity from time-honored tradition. Being in business so long has taught this company a thing or two about producing award-winning boats.
Pursuit employs Yamaha Outboard engines on its Offshore series of walkarounds, proving that you can evaluate a manufacturer by the company it keeps. 
Customers love Pursuit boats, as they've won the National Marine Manufacturer Associations Customer Satisfaction Index award 18 years in a row.
Tiara Yachts was founded in 1955, making them one of the oldest boat builders on this list. Offering both diesel inboard and standard outboard options, owners can benefit from either Cummins or Volvo engines in their Open series and 450 Mercury Racing engines in their Sport line.
The most driving reputation about Tiara Yachts is the innovations they bring to boating. From flexible storage and seating options to a commitment to fit and finish in their final product, boat owners know they're getting the best with Tiara. 
When it came time to pick my ideal boat, I had to go with Boston Whaler. I've always been impressed with their brand message and their ability to bring high-quality products to a recognizable and historical package. They've always been one of my favorite boat makers, and I couldn't pass up the opportunity to own one now that the time is right. 
New vs. Used
Everyone likes being the first owner of something. Whether it's a car, or a boat, being the first person to sleep in the berth (bed) or having the latest technology afforded by new models is always an exciting premise. 
However, boats, like most vehicles, are rapidly depreciating assets. While a brand new Pursuit 325 Offshore walkaround is just under $500,000 brand new, a two-year-old gently used model can cost $350,000, a savings of 30%. More expensive boats or those with specific niche features can have even greater savings. 
Two factors impact the high depreciation in fishing boats: mass production and large market share. Because of the broad market of recreational fishermen, fishing boats tend to be more mass-produced than more luxury watercraft like yachts or sailboats. This large market also means there's a faster turnover from between model years. As older boaters upgrade to new models, their old boats enter the used market where they can still enjoy a relatively long life. 
When considering whether to purchase a used fishing boat, there are a few things to think about ahead of time before you start browsing. First, consider the reputation of your desired boat model. I'd feel much more comfortable buying a used Boston Whaler than many other boats because I know that their hulls are incredibly reliable and feel comfortable knowing that the likelihood of any catastrophic failures is relatively low. 
Fishing boats are incredibly customizable, and buying a used boat can be a great way to get a discount on accessories like outriggers or fish finders. Instead of paying for these to be installed on a new ship, you can get precisely what you want if you find a local seller who fishes for the same type of game as you. 
However, old ships will have parts that eventually wear out or need replacing. Regular maintenance becomes more frequent on older boats, and it's essential to consider that expense when you purchase a used boat. This is where new boats have an advantage, as you'll have fewer maintenance costs. A manufacturer's warranty may cover any unexpected repairs, another level of insurance for a new boat owner.  
The best way to protect yourself while buying a used ship is to hire a marine surveyor. Getting a boat surveyed will uncover any troubles so that you can walk into a sale fully informed. You may need to pay the surveyor for their time assessing the ship; however, this is an expense that can end up saving you money in the long run. 
A marine survey isn't necessary for used sales through a dealership or boatyard, as they've probably already had the boat surveyed when they purchased it from the original owner. However, you may pay more working through a dealership than you would in a private sale. 
I purchased my fishing boat new because I was incredibly excited about a leading manufacturer's brand new offering. I was able to get the length I wanted with all the brand new features and luxuries available. Further, I was excited by the manufacturer's reliability and reputation, which helped me feel comfortable that my investment would be protected for years to come. 
Summary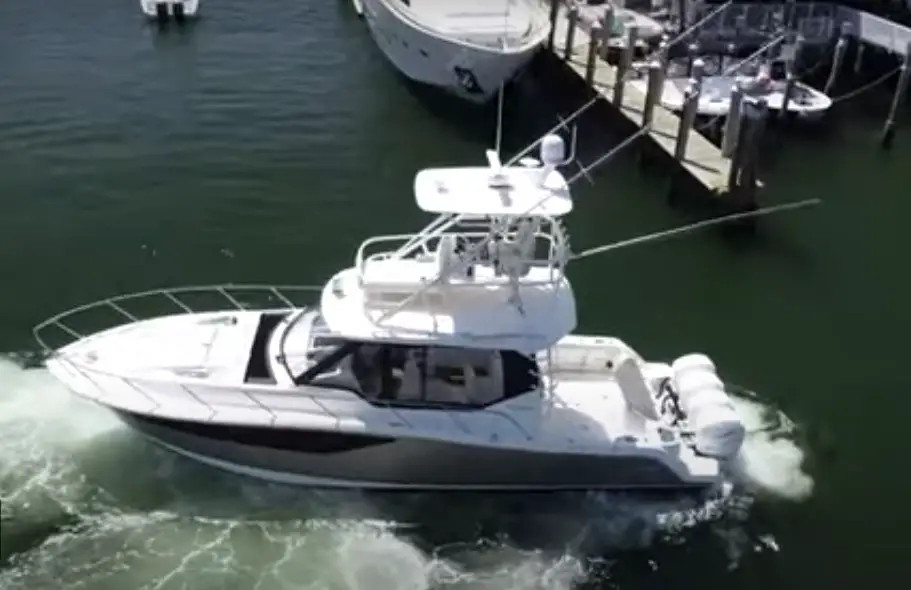 I picked the brand new Boston Whaler 405 Conquest as my chosen boat as it had tons of great features, a new, exciting layout, with plenty of luxury and excitement for offshore fishing trips. 
The Conquest is infinitely customizable, which is great because I wanted a few key features, like a winch and outriggers, to make sure that I'll have great luck while fishing. 
At over a million dollars new, the Conquest is pretty pricey. My budget for this one is a bit steep outside of my payment. My local marina charges $65/foot, which is $2600 a month in rental costs for a 40-foot boat. 
The Conquest's gas tank is a massive 620-gallon behemoth, which is necessary because it burns over 130 gallons per hour at full throttle. That means it costs over $1700 to fill, which I do about every other week, so I have plenty of range for all my weekend fishing trips. 
All this combines to be over $6000 budgeted outside of the cost of the Conquest. Because I live in the northeast, this isn't a year-round cost and only applies for about half the year. At the end of the year, my marina will store my boat and provide my end-of-year maintenance at a relatively low rate. 
I worked with my marina to agree on rental, storage, and maintenance costs. Going through the process helped me get more and more excited about my new purchase. After doing the numbers, I committed to saving $10,000 a month every month (even in the offseason) to account for unexpected costs. However, because I bought a new boat, I was sure that anything that came up was under warranty. 
After going through one season with the Conquest, I'm happy to say that I had no headaches and even brought in a colossal mako shark during a local shark fishing tournament! That winch definitely came in handy then. 
If you're looking to build your ideal fishing boat, looking to become a better boater, or find out how to conquer new oceanic frontiers, make sure to keep your eyes peeled for more content. Subscribing to our newsletter is the best way to stay informed. That way, you'll get the latest information in your inbox when it comes out.