In the previous two articles, we explored the advantages and disadvantages to buying an old boat, as well as the best ways to find a great deal on a used vessel. For the final segment of our three part series on old boats, we will examine four excellent examples of older boats that can compete with even the finest vessels being built today. 
Each of these classic designs can take their owners in safety and comfort anywhere you want to go, from coastal island hopping through the Bahamas or Sea of Cortez to braving the cold, stormy waters of the North Atlantic or the Bering Sea. 
Many modern vessels need to be babied once the going gets tough, but all four of these vessels will take care of you instead. Although they vary greatly in size and design, all four boats succeeded brilliantly at performing the job they were designed to do. I have personally sailed each of these vessels both offshore and coastally, logging thousands of miles on some of the designs, and I wouldn't hesitate to sail any of these fine vessels anywhere in the world if given the chance. 
Without further ado, here are 4 great old boats – in no particular order:
Old Boat #1: Nordic Tug 42 – A Long Range Power Cruiser for Exploring Rugged Coastlines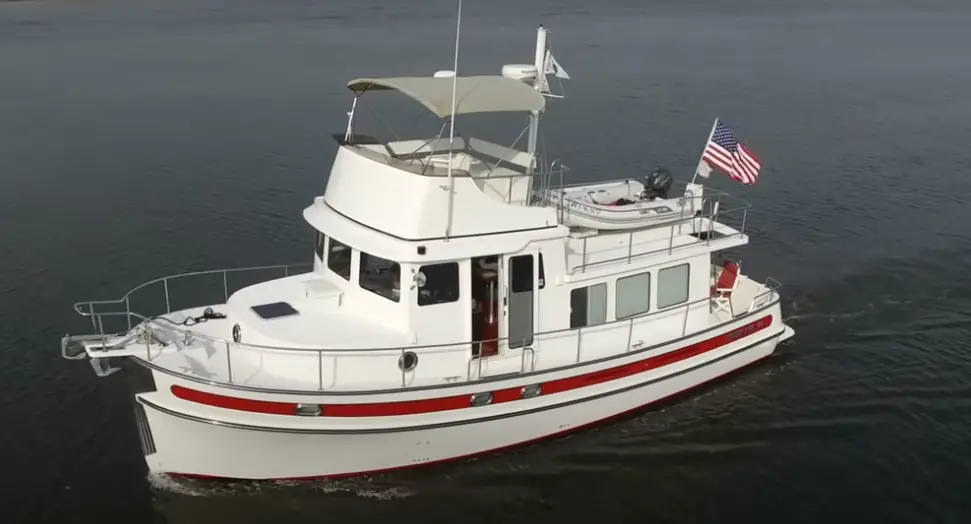 Nordic Tugs seem to be everywhere. You see them in Maine, in Nova Scotia, in the Sea of Cortez and in the Caribbean. In my home waters along the Inside Passage from Puget Sound to Alaska, Nordic Tugs seem to be the most prominent motor cruising boats around, especially if you get up north into British Columbia and Alaska. The farther north you get, where the weather is known to turn at a dime and the coastlines are as rugged and unforgiving as you can find anywhere on earth, Nordic Tugs are in their element. 
The reason you see so many Nordic Tugs around is because they make excellent cruising vessels, a safe and cozy home on the water for wherever you want to go.
The Nordic Tug line was launched with their 26 foot model, whose immediate success as a go anywhere power cruiser led to the development of their larger models, including the 42. They now build six different models, ranging from their original 26 footer to the 54 foot model, which has a range under power of over 2,600 nautical miles. 
All their vessels are built in Burlington, Washington with a solid fiberglass hull and a balsa wood core deck and cabin top. All the high stress areas in the hull are reinforced with stainless steel, making for a nearly indestructible vessel that can tolerate a lot of abuse. The company has enough confidence in their boats to offer a ten year warranty for the hull and deck – no matter where you take it. 
The Nordic Tug 42 manages to incorporate plenty of space up on deck along with roomy accommodations down below – with plenty of space for two couples to cruise together in comfort for long periods of time. The aft cockpit has plenty of space for lounging, and the swim platform on the stern makes it easy to get to and from the dinghy, as well as providing a safe way to climb back aboard after swimming in secure anchorages. The side decks are relatively narrow for a motor vessel of this size, but the stainless steel railing that circles the entire forward deck makes it safe to walk forward in bumpy seas. 
Stepping inside, you find yourself in a large main saloon with a spacious dinette and U shaped galley to port. To get up into the pilothouse, you climb up an open staircase with a sturdy handrail. The pilothouse is large with a 360 degree view and comfortable seats for the captain and mate. Every part of the interior is finished with exotic hardwoods by master carpenters and the attention to detail by the builders is apparent everywhere you look. 
The sleeping accommodations are located down a set of steps to the starboard of the galley. There are two large staterooms along with a full size navigation station and two separate heads, both with their own fully enclosed shower and sink. The master bedroom is in the bow, with a queen sized berth and plenty of stowage for all your clothing and personal items. There is a large opening hatch that opens from the master stateroom directly to the deck, which provides plenty of light and ventilation as well as an emergency exit, just in case. 
Nordic Tug 42 Specs
Length: 44'8"
Beam: 13'10"
Draft: 4'7"
Displacement: 431,400 Lbs.
Fuel Capacity: 600 Gallons
Price Range: $350 – 500,000 USD
Old Boat #2: Contessa 26 – A Pocket Circumnavigator for the Minimalist Adventurer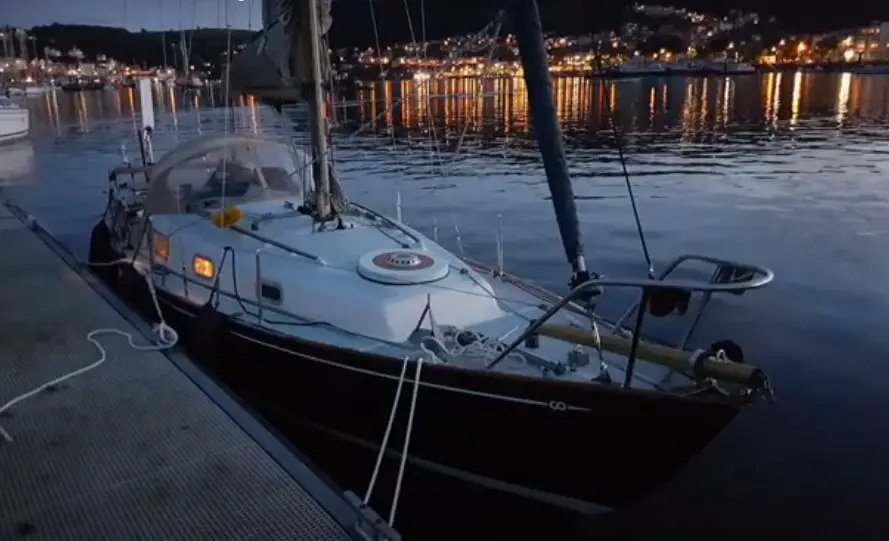 Even before I first sailed a Contessa 26 more than ten years ago, they were already one of my favorite offshore mini cruiser designs. The Contessa 26 was originally drawn up as a modern version of the classic Scandanavian Folkboat, a 26 foot full keeler that has become well known for her success in transatlantic races and ability to survive storms that sank vessels many times her size. 
First designed in 1965 by Jeremy Rogers and David Sadler, the Contessa 26 combined Roger's deep understanding of the Folkboat with Sadler's experience in modern fiberglass vessels. Fifty years later, the Contessa 26 is still a very popular choice for small boat enthusiasts to sail offshore in confidence.
In the eighties and nineties, the Contessa 26 became famous because it was the vessel of choice for two teenage circumnavigators, Tania Aebi from New York City, and later Brian Caldwell from Hawaii. As a young sailor who aspired to complete similar voyages myself, I always had an interest in the design. So when I got an email asking me to deliver one from the Bahamas to Panama, I accepted the offer right away. 
The pretty little boat sailed just as well as I had hoped, handling a wide variety of conditions and wind angles without a hiccup. 
The Contessa 26 doesn't have a whole lot of room down below – for me, standing 5 foot 9, I could only stand up fully in one place just ahead of the companionway. The interior setup is simple, with a quarter berth on each side and a split galley with the sink to the port and the stove to the starboard. Foreword is a head on one side, a small hanging locker on the other, and a v-berth in the forepeak. 
Despite the somewhat spartan accommodations down below, the Contessa makes up for it by the fact that she can survive just about any storm you come across. On my friend's circumnavigation aboard his Contessa 26, he was rolled 360 degrees in a severe storm off South Africa, and yet the boat held up without any serious damage. Most vessels would have been dismasted by the incident – or worse. 
If you are looking for a cheap way to explore the oceans, then you will have a hard time finding a more suitable small boat than a Contessa 26. I very much look forward to the next time I sail one myself, whether it's for an afternoon cruise around San Francisco Bay or a voyage around the world. 
Contessa 26 Specs
Length: 25'6"
Beam: 7'6"
Draft: 4'
Displacement: 5,400 lbs.
Rig: Bermudian Sloop
Price Range: $10,000 – 30,000 USD
Old Boat #3: Truant 33 – An All Weather Motor Sailer from the Pacific Northwest 
The next design I'm going to share with you is one of my favorite vessels of all time, the Truant 33. As a delivery captain, I end up getting stuck out at sea in foul weather more often than I would like. It's just part of the job with this kind of work. Most boats, the more I sail them, the more obvious their weaknesses, and the more eager I am to finish the trip in case something goes wrong. 
With the Truant 33, the more I sail her, the more I trust the boat to get me home safely every time. I have ridden out more nasty weather on the Truant 33 than I can count, both at sea and at anchor, and yet I have never doubted the boat's ability to handle even the worst winter gale. 
The Truant 33 was designed by William Garden to be a small yet seaworthy liveaboard vessel for cruising year round in the wet and tempestuous Pacific Northwest, and she fits the bill perfectly. To keep the crew warm and dry, Garden worked in a pilothouse for inside steering with 360 degree views and standing headroom throughout (There is also an "offshore" option for those who prefer a traditional cabin profile). 
If you do venture offshore on a Truant, I have no doubt that she will perform beautifully, but it's a good idea to fit the pilothouse windows with lexan storm covers to provide extra strength in case of a knockdown. The large windows are really the only obvious weak point of the design in breaking seas. 
To cope with the Pacific Northwest's often flucky winds, the vessel is equipped with a large diesel engine and a 112 gallon diesel holding tank – quite a lot for a vessel of this size. She also holds 100 gallons of water in two tanks under the dinette. Considering the fact that most boats in the 30-40 foot size range hold maybe twenty or thirty gallons each of fuel and water, the Truant 33 has the cruising range of a much larger vessel. 
The hull features a very prominent bow along with a canoe stern reminiscent of a Valiant 40. Under the water, she has an elongated fin keel along with a rudder on a sturdy skeg. The cockpit is compact, yet very secure, with the pilothouse providing a lot of protection from the wind and water coming over the bow. 
Truant 33 Specs
Length: 33'
Beam: 10'8"
Draft: 5'4"
Displacement: 13,500 lbs
Rig: Bermudian Sloop 
Price Range: $35,000 – 60,000 USD
Old Boat #4: Swan 38 – The Best Racer Cruiser of All Time?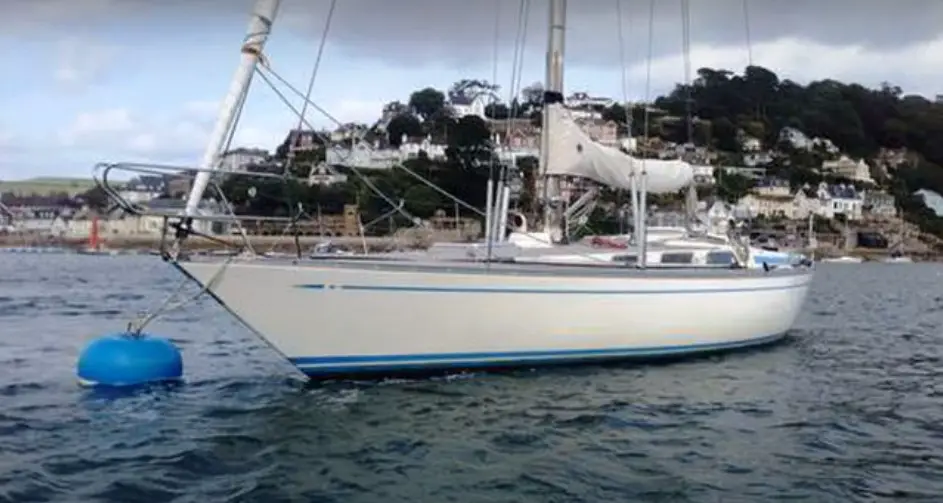 If you are seeking a bulletproof yet fast boat to sail against the wind in storm conditions, you would be lucky to find a boat of any size that is better suited for the job than a Swan 38. When the sky darkens and hell opens up from the sky and all the other boats turn around and head for the safety of port as fast as they can go – the Swan 38 is just getting warmed up. 
Most boats tend to bash themselves to death when sailing upwind, that's the reason that so many sailors hate sailing with the wind ahead of the beam and the origin of the term "a gentleman never sails to windward". But with the underwater profile of a fish and a sleek, aerodynamic deck and cabin top, the Swan 38 was made to cut through the water like a sharp knife. The Swan 38 cruises upwind in heavy weather better than most boats can sail at any angle. 
If I wanted to buy a boat to sail around the five great capes westabout against the prevailing winds and currents (A journey nicknamed "the impossible voyage" that only five people have ever completed successfully to date), my first choice would be a Swan 38. 
The Swan 38 was designed by the legendary Olin Stephens and first launched in 1974. Production ended in 1979 with 116 vessels completed. It is a great testament to the Swan 38's excellent design and construction that not one Swan 38 has sunk or suffered a fatal accident at sea to date. Considering the fact that these boats have been sailing for more than forty years to every corner of the globe, that feat alone is an incredible achievement. 
Most Swan 38's were rigged with the classic bermudian sloop setup, but some have been outfitted with a removable inner forestay and running backstays. This option provides additional strength to the rig and makes it possible to fly a staysail or storm jib in stronger winds.
Down below, the Swan 38's interior is fitted out entirely with the highest quality hardwoods available, making it a beautiful and comfortable space for living in full time. The layout isn't quite as spacious as some 38 footers that are being built today, but you will have a hard time finding a boat that both sails as well and has as comfortable accommodations down below. It's the combination of those two factors that make the Swan 38, in the opinion of many experienced sailors, the best racer cruiser of all time. 
Swan 38 Specs
Length: 38'3"
Beam: 11'6"
Draft: 6'3"
Displacement: 18,300 lbs.
Rig: Bermudian Sloop
Price Range: $60,000 – 150,000 USD
Yacht Designs That Stood the Test of Time – A Final Word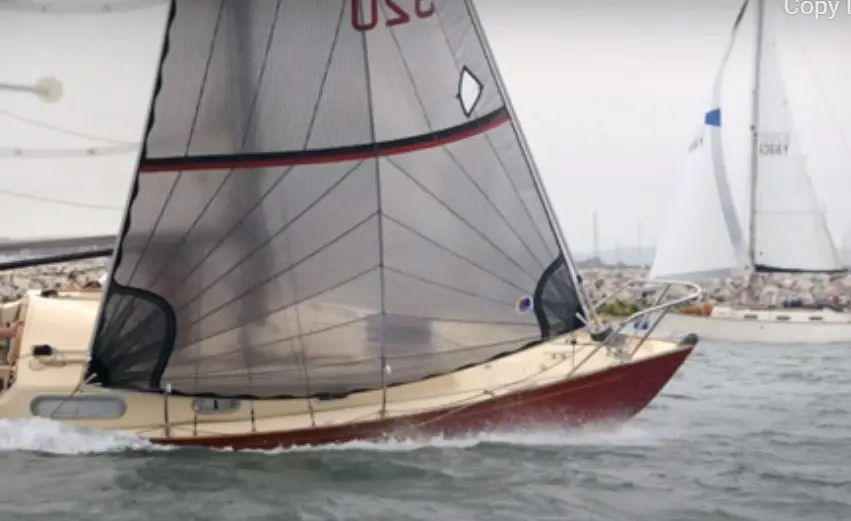 Each of the four older yachts we covered in this article have become legendary in their own unique way. Despite improvements in construction techniques and building materials over the years, any of these vessels could compete with the finest yachts built today in a race around the buoys or a voyage across the Atlantic. 
With so many amazing boats out there, it's hard to pick just four favorites to cover in a piece like this, but each of these vessels is truly a unique craft that stands out at any anchorage. As someone who delivers boats for a living, I have sailed on a number of vessels that I wouldn't set foot on again if you paid me a million dollars. But I would step aboard any of these four boats and head out to the open sea in a heartbeat. 
If you enjoyed this article and want to learn more about the process of selecting and buying an older vessel, make sure to read our previous two articles "The Complete Guide to Old Boats" and "Frequently Asked Questions About Old Boats". 
SailAndProp.com is the best place online to find answers to all your questions about boats and the sea. We'll be publishing new guides on a wide variety of boating topics every week, so check back for more great boating information. If you haven't already joined, don't forget to sign up to our newsletter to get all our latest news and content sent directly to your inbox!